Johnson assesses impact after Halloween flooding
After torrential flooding on Oct. 31, Johnson residents woke up on Nov. 1 to flooded backyards and washed-out roads. According to a Facebook post from Kyle Nuse, at 9:00 a.m, the Johnson select board passed an Emergency Declaration for the town.
Route 15 from Community Bank to Jolley's had to be closed due to flooding. Johnson's Sterling Market seemed to be under a couple feet of water. According to Johnson Work's Facebook page, "Collin's Hill, Plot Rd and Swap Rd [were] all impassable with trees and powerlines down."
Route 15 stayed closed for several hours, long enough that through their Facebook, Foote Brook Farm announced they'd be closing for the day. The Lamoille Family Center also closed due to the flood.
Several Facebook groups including "VT Roads," were ablaze with Vermonters from Brattleboro to Derby asking about the conditions of roads along the way. Johnson locals including the Johnson Works page posted about fires, suspected propane leaks, and more flooding.
Dianne Allaire, mailroom supervisor, emailed all campus at 10:26 informing that the mail could be late or delayed "due to flooding and road closures."
Allaire continued, "At this point the Johnson Post Office parking lot is flooded and we are unsure when we will be able to access the Post Office."
While the water was supposed to crest around 1:00, it continued to rise until about 2:00.
Several downed trees blocked the road on campus between the Apartments and the Visual Arts Center, though it is unclear exactly when they fell. Based on several reports, they fell sometime on Friday in the morning between 9:00 and 1:00.
Director of Physical Plant Mike Stevens said in an email that, on campus, there were at least 15 trees down "in close proximity to the road" and about 45 in total.
Due to the high winds and washed-out roads, the Badger Bullet was also cancelled for Friday evening.
Over the phone, a representative from Sterling Market confirmed that they had managed to avoid major damage, even though the building was surrounded by water for several hours both overnight and into the morning. The Post Office could not be reached by phone for comment.
By evening, it appeared that most of the water had receded. Service Officer for the Town Selectboard Nat Kinney said that several roads had opened up around 4:30, and that "most state roads were clear."
"Our biggest concern now are the dirt roads," he said. "There were washouts in quite a few places." Flood damage in certain places may be bad enough to qualify for FEMA aid, such as at Scribner Bridge on Rocky Road, according to a Facebook post from Selectboard Members Kyle Nuse and Eric Osgood.
Neither Nuse nor Osgood responded to a request for comment.
At least two families have been displaced from flooding, but the American Red Cross has found temporary housing.
Kinney also said that although the library is "flood-prone," the staff responded quickly and the collection sustained little damage.
By late afternoon on Saturday, Nov. 2, most roads including the Wrong Way bridge in Cambridge had opened up. Route 15 through Johnson is completely open again.
Kinney, among others, praised the work of electric companies and highway crews who cleared roads.
About the Contributor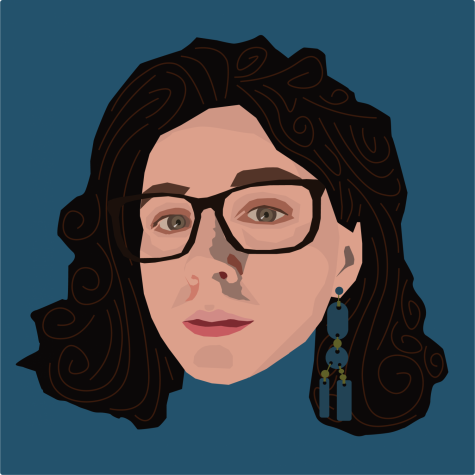 Rebecca Flieder, Editor-in-Chief
Senior, Journalism & Creative Writing
Grew up in Atkinson, NH
Fall 2018 - Present
Along with traditional journalism, I enjoy writing satire and...