Library deselection continues anew
As the process of removing old and out-of-date library resources at the Willey Library continues, the extent of the initiative remains unclear.
The process of removing older and out of date resources, also known as deselection, began over the summer, and has carried over into the current school year.
Deselection is expected to be a two-year process.
When the project was announced, faculty and staff were invited to go to the library and mark materials as essential to the program. Ray Brior, the technical services librarian at NVU Johnson, says that not many faculty members have come to mark resources as essential.
"Some majors use [the library] more than others, and some professors are more communicative with us than others," said Brior. "In cases where we have reached out to professors to ask if something is still valuable, at least in my experience, these individual reach-outs tend to be more responsive."
With many materials being cycled out, the reliance on online information databases will grow. According to Brior, with the blossoming of online resources, content can change.
"One service with about 800 reference titles in there has material that can change," said Brior. "This past spring, one of the publishers pulled out of there, essentially removing 20 percent of the reference books. That's one of the challenges of relying on the [online] databases. When you're just buying access, the information can change. It's not guaranteed, because you don't own it."
Brior also noted that some reference materials and some databases have hefty price tags.
"If suddenly that database becomes unaffordable, then access will go away," said Brior. "Reference materials are so expensive, and one of the tricky things going through the materials, is that some of the titles that we have aren't the newest, but there isn't anyone comparable. We were looking at this encyclopedia of ocean sciences by Elsevier, who are notorious price gougers, and they had a new one out that was well reviewed, but it would have cost our entire acquisitions budget for the whole year. Instead we went with a title that was a few years older but that was also well regarded."
Another option for library materials comes from other libraries who digitize materials. "There's this 12 volume Canadian dictionary biography and I found that the University of Toronto fully digitized it."
Brior also noted that many books can be acquired through the ILS or interlibrary loan system.
He also noted the downside of this is that our library can't control what books other libraries have.
According to Brior, this weeding process happens often.
"Reference has been weeded a lot in recent years," said Brior. "Probably back in 2013, we did a big reference weed that probably removed about 40% of what was then the reference collection. Over the past six months I would say we removed another 15%."
For questions regarding the deselection process see Brior or other library staff.
About the Contributors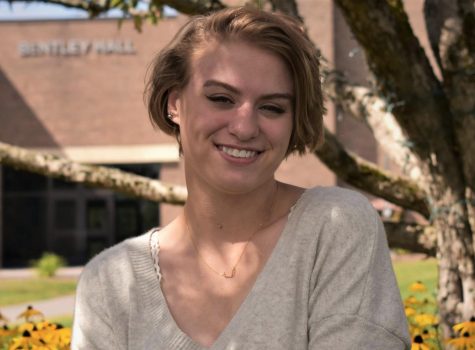 Adriana Eldred, Photo & Web Editor
Senior, Journalism & Studio Art
Grew up in Craftsbury, VT
Spring 2018 - Present

I got a black eye and mild concussion in Las Vegas during a rugby...