Student loses all her possessions in recent flood
Arriana Crowe first saw her house surrounded by water at 3:30 in the morning Nov. 1.
Crowe, a first-year Business Administration student, had been staying at a friend's house on Halloween night during the heavy rains. She drove to her house in the Twin Bridges area the next morning to get work pants for an early morning shift at the downtown Maplefields convenience store.
"It was knee-deep all the way around the house, [and I thought], well, I'm not going in there," Crowe said. "The biggest thing that I was worried about when I saw the flooding was whether or not my dog was going to be okay, because that's my whole life."
But there was nothing she could immediately do. "I called my manager and [said], I can't get in my house. And they were like, it's fine, just go to work. Open the store."
"I went to work, I had my work shirt on, and I had my pajama capris on the bottom," she said
Crowe worked the counter at Maplefields, unsure what was going to happen with her house. Later that morning, her landlord came into the store and told her that the house was flooded, they had gotten the dog out, and her bed was destroyed. "My bed was just a mattress on the floor," said Crowe, "and all of my belongings are basically at the same level, so… oh great, that means all of my stuff just got ruined."
When her shift was finished, Crowe went back home. "I got there and there was still an inch-and-a-half of water in my room, and I just grabbed a couple of things and left because I was like, I can't… what am I supposed to do with this?"
She had lost her computer, including all the assignments on it. She had lost most of her clothes. Her school notebooks and paintings she had done for an art class were soaked.
"I definitely cried," Crowe said. "I was very overwhelmed. And everybody [said], oh it'll be okay, and I was like, are you sure? Cause I don't feel that way right now."
"I mean, I moved up here less than a year ago with a single duffel bag," she continued, "and I had worked really hard to get into school and into my own place. To have everything, whoosh, gone…. Seriously? After all that I've tried to accomplish, this is how Mother Nature is going to pay me back?"
Crowe said, though, that it hasn't been as bad as she initially thought it would be. "But thankfully, it's just because I've received a lot of support."
She's been staying with friends, and she's gotten help applying for micro-grants to replace her laptop. "That day I had a lot of people give me their phone numbers and tell me that if I needed anything…. And I had a wonderful woman pick up my dog and let him stay at her farm so that he didn't have to be in a crate." The dog is now living with her dad.
Despite the upheaval, and despite having just a trash bag full of salvaged clothes to her name, Crowe hasn't missed a beat in her school or work. She works early six-hour shifts five days a week, and has classes four days a week.
"It's a lot," she said. "It's been a struggle to maintain all of it, but I am extremely motivated, doing the best that I can."
Reflecting on her situation, Crowe was pretty matter of fact. "Basically, it happened and I'm doing the best that I can to get through it. And I'm not doing too bad."
About the Writer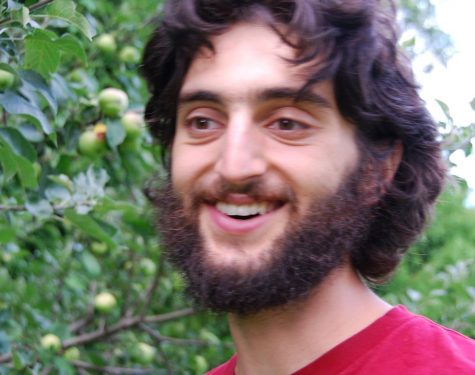 Ari Erlbaum, Staff Reporter


Senior, Professional Studies
Grew up in East Montpelier, VT
Fall 2019 - Present

In my spare time that I pretend I still have, I play saxophone...