Dr. Tania Bacchus retires
After more than 26 years teaching meteorology, oceanography and other environmental science courses at NVU-Johnson, Tania Bacchus is moving on at the end of this semester.
"It's exciting and sort of a little bit bittersweet in some ways," Bacchus said. "It's a new chapter in my life that I'm definitely looking forward to, but it does mean leaving behind a place that I've been around for a very long time. And that's obviously not the easiest decision to make in the world."
Bacchus says she plans to travel to the U.K. for family events this spring, and write a professional bio for an artist friend.
"I'm also going to still work on the climate statistics and some of the climate dynamics while I have time to really look at my data," Bacchus said. "I have 10 years of good data that I really need to compile, which I haven't been able to do, because it's just very time consuming. I want to do these other things that I've enjoyed doing as a sideline to my teaching responsibilities as now what I do most of the time."
Bacchus, a U.K. native, came to Johnson State College after studying oceanography and getting her Ph.D. in meteorology from the University of Maine.
She worked for seven years with Vermont EPSCoR, a project that funded research on Vermont climate change indicators and resilience. She headed the campus weather station, which gathers and reports weather data.
"The way she involved students in that work is very beneficial to them and to this institution as a whole," said Brad Moskowitz, an outdoor education professor in the Environmental and Health Sciences department.
Chair of the Health and Environmental Sciences department Liz Dolci echoed Moskowitz' comments about Bacchus and student research, which has come to define in part the science program at NVU-J.
"She's done research with undergrads over the years and many of the students who've worked with her have gone on to graduate school, and gotten jobs and have been very successful," said Dolci.
Dolci and Bacchus started teaching at Johnson around the same time and have been working together ever since. "She always provided… a strong and well thought out perspective," Dolci said. "She [has] held students to very high standards."
Having devoted most of her adult life to mentoring students, the transition for Bacchus will, not surprisingly, be challenging in some respects. Gone will be the comfort and predictability of a routine that has been both meaningful and fulfilling.
"It's going to feel rather strange not having the class structures of going to class three times a day," said Bacchus. "That's going to be difficult. I'm going to miss the interactions with students. But I think everybody gets to a point in their life where they know it's time to move on and do something different. And that's where I'm at right now."
Bacchus will leave a legacy of "tough love" mentoring, a professor known for exacting standards and expectations that students meet them. "Tania cares deeply about her students," Moskowitz said. "At the same time, she holds them to exceptionally high academic standards. And she has great expectations… for what they can do for work. And yeah, I think that students have been challenged by her, yet seem to learn a ton from her classes."
Dolci described Bacchus succinctly as "a true friend, a very genuine individual and a good colleague."
Visiting assistant professor Lisa Zinn said she and Bacchus share a passion for climate change and meteorology. She will, she said, miss her colleague. "It's been nice to have someone who really cares," said Zinn, "and knows the science behind climate change and can really promote that as something we need to be talking about."
Bacchus' departure comes at a time of transition for the department. Professors Karen Uhlendorf and Robert Genter recently left, and Dolci is leaving at the end of the spring semester.
Until new hires arrive, the department is planning to cover Bacchus' classes. Professor Leslie Kanat is planning to take over the weather station.
"She's going to have to train me on its use and I'll take it over and probably put it in the Student Research Lab and get some students to run it," said Kanat.
For the future, Bacchus says she's leaving her options open. "For 26 and a half years I've known where I was going to be and what I was going to be doing. All the time, and months ahead of time. Now, I don't necessarily know what that's going to look like… Something might come along that I had never thought I would do. And maybe I will."
About the Contributor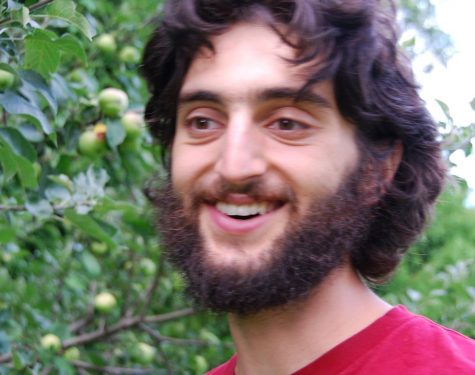 Ari Erlbaum, Staff Reporter


Senior, Professional Studies
Grew up in East Montpelier, VT
Fall 2019 - Present

In my spare time that I pretend I still have, I play saxophone...