Sciences search for professors
New tenure track positions in the Environmental and Health Sciences department have been authorized and active searches are underway.
A tenure track biology position is open, and according to Provost Nolan Atkins, there was a strong pool of candidates that applied. A couple will be brought in to interview further in the next couple of weeks, and the search team seems optimistic that they will find the right fit.
Professor Elizabeth Dolci, chair of the Environmental and Health Sciences department at NVU Johnson, is on the search committee. "We are looking for a vibrant and energetic faculty member who excels or has the potential to excel in the classroom, develops a dynamic research project where our students can actively participate in original and genuine research, and works collaboratively with faculty in EHS (Environmental and Health Sciences)," she says.
Gracie McGee, the student on the search committee for the biology position, says she is also looking forward to seeing the candidates during the second-stage interview, which will be a presentation of their current research.
This gives her a chance to get a feel for their teaching styles, which is one of her most important criteria.
"They always have a student member for search committees because we have a much different perspective than the faculty," says McGee.
Another tenure track position in the health sciences has been authorized, but the search is more difficult. Atkins explains that the position was a little too broad and vague as advertised and may be subject to change. "Most likely," he says, "we'll recraft the position to focus it in a little more narrowly and go back out with a reposted search."
There is also an ongoing search for someone to fill a vacancy in the Wellness and Complementary Medicine (previously known as Wellness and Alternative Medicine) program. In contrast to the health science position, as posted, this position is quite narrow and not very many people have the background NVU is looking for.
"The Wellness Program is rather unique and emphasizes a holistic approach to health and wellness," says Dolci. "The ideal candidate will be knowledgeable in modalities that are not typically associated with Western medicine and will have a background in science. We plan to expand the search by advertising in additional job listing sites and professional journals. In addition, we are informing faculty and human resources departments at schools of naturopathy of the opening here at NVU. We are asking them to inform their students of this opportunity."
The Environmental and Health sciences department is undergoing significant transformation following the recent retirements of professors Bob Genter, Tania Bacchus, and Karen Uhlendorf, as well as the departures of professors Amy Welch and Hans Haverkamp, which, according to Atkins, provides opportunities for re-thinking the sciences at NVU. "Once we know the expertise of that hire, then we can build on the rest of the degree program," says Atkins.
That, of course, means that other areas can broaden their search and narrow when they find a good candidate.
Classes may be changed slightly to utilize the talents of the new hires. "Part of what they would offer depends on the person we haven't hired yet," says Atkins.
With this in mind, the current faculty was asked to draw up a rough plan of what the department may look like with new hires in place. A lot of work has gone into the plan, leading to other changes in the department.
Environmental sciences will morph into an interdisciplinary Environmental Studies and Sustainability program and degree. It will incorporate other kinds of disciplines such as history, sociology, anthropology, and potentially theater, political science and art.
The outdoor education, leadership and tourism degree was changed last year to align with the program offered at the Lyndon campus, so any changes to that will be made further in the future.
A General Science degree is also being designed, but it has not been finalized. This would be an interdisciplinary science degree for education majors who want to teach science, or a degree for someone with a general interest in science.
How long are these changes going to take? "The goal is to have people hired, a lot of this curriculum worked on and available for students starting this coming fall," says Atkins.
About the Writer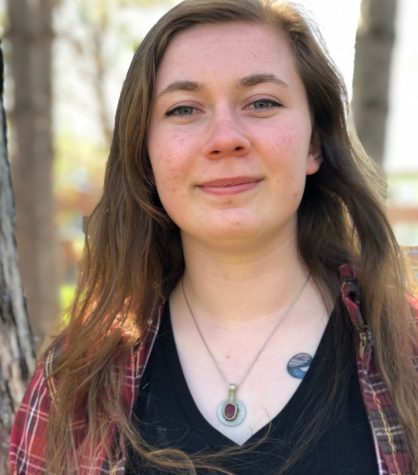 Magnificent Schmidl, Staff Reporter
Sophomore, Journalism
Grew up in Salisbury, NH
Fall 2018 - Present

The closest I have come to fame so far is once, at a Weird Al concert, he went...