COVID-19: What does it mean for NVU?
All in-person, face-to-face instruction at both campuses of Northern Vermont University will be suspended at the end of the day tomorrow, Friday, March 13, 2020.
April break has been moved to the week of March 16, 2020.
The next two weeks after the scheduled break will be done by remote, online instruction. All athletic games, matches, and practices are immediately suspended. All international travel has been cancelled. All domestic travel has been postponed. The SHAPE facility and the library are closed until further notice.
Students are encouraged to return home by the end of the day on Sunday, March 15. Those that cannot go home can stay on campus. Sodexo will remain in operation.
All NVU events, on or off-campus, are suspended through at least April 6, 2020.
COVID-19, the novel coronavirus disease, has been rapidly spreading across the planet in what some are calling a pandemic. At press time, there were over 1,000 confirmed cases of COVID-19 in the United States. With so much information coming in daily about each new infected region, it stands to reason: what would happen if it came to NVU?
COVID-19 in Vermont
The first case of COVID-19 in Vermont was confirmed on March 6, said to be a man hospitalized at Central Vermont Medical Center in Bennington.
March 12 Update: UVM Medical Center confirmed a second case in Chittenden County.
At press time, 226 Vermonters were being monitored for the disease, at least 17 of which were students and faculty at NVU. 40 Vermonters have tested negative so far, and 52 have completed monitoring.
The 17 being monitored were travelers who returned from an academic trip to Switzerland and Italy on March 1. Outside of China, Italy has had the highest infection rate of any country, but at the time the trip returned, the Center for Disease Control (CDC) did not recommend that travelers returning home self-isolate or be quarantined.
After March 4, the Vermont Department of Health changed its guidelines and recommended that people returning after that date should self-isolate for 14 days.
A campus-wide email from President Collins on March 3 said, "We ask that any student, faculty, or staff who traveled to one of these areas [China, Italy, South Korea and Japan] within the past two weeks notify us about your travel."
In an interview on March 6, Dean of Administration Sharron Scott said, "It's also possible that people could have traveled to these areas and we don't know about them."
The 17 known students and staff members have been in daily contact with Dean of Students Jonathan Davis and have been taking their temperatures every day.
"I'm texting with them on a daily basis, sometimes overlapping half the group each day," Davis said. "I'm reaching out to them, and they're responding."
"The self-monitoring for our travelers ends on Sunday, March 15," said Scott. "I know they'll all be happy when they can stop taking their temperatures."
NVU's response
In response to the original outbreak in February, President Collins established the COVID-19 task force, which meets daily and consults with the latest recommendations and information from the Department of Health. "Our primary mission," said Scott, "is to keep the students, faculty and staff at NVU safe.
'We do our daily check in at 8:30 in the morning, and then we have a fair number of tasks that generally come out of each daily call. One of them is always the update that will be working on for the week."
On the task force is Scott, Davis, Director of Marketing and Communications Sylvia Plumb, President Elaine Collins, External Relations Officer Leah Hollenberger, NVU Provost Nolan Atkins and Dean of Enrollment Michael Fox.
"It's important for your readers to understand that that it's really easy to be afraid of this virus with the way the media has been talking about it," said Scott, in the March 6 interview. "It is novel, and it is something that is scary to people. But right now, the risk is deemed very low in our area."
At the time, there was only one confirmed case in Vermont and two in New Hampshire. By Tuesday, March 3, the total in New Hampshire jumped to four. By Wednesday morning, the total was 5.
March 12 Update: The number in New Hampshire has jumped to 6, with a confirmed case in Rockingham County.
Travel plans cancelled
An update email to students, faculty and staff on Thurs, March 5 addressed cancellations of university travel. "Effective immediately, the university is cancelling all university international travel scheduled through April 30," it said. "University domestic travel is currently unaffected but will be reevaluated frequently and is subject to cancellation on a case-by-case basis. All faculty involved with the international travel trips have been asked to communicate directly with students on their trips."
Two international trips, both out of the Lyndon campus, were cancelled. One was destined for Costa Rica, the other to London and Paris.
Domestic travel would be assessed on a "case by case" basis, said Scott.
Then, in the March 10 interview, Scott and Plumb added that domestic trips in the coming weeks would also be cancelled.
"Two conferences in the Boston area have been cancelled, and two travel trips to the New York City area have been cancelled," said Scott. The Boston conferences were cancelled by their organizers. "So," said Scott, "we can refund all of that, except for the membership fee for an organization that was also the entrance into the conference."
The New York trips are different, in that money has already been prepaid. Students may not see the whole course fee refunded. "We're working with the vendors to secure refunds from anything that was prepaid," Scott said. "Our hope is to be able to refund all of it… Vendors have been very helpful and generous in their refund policies, even if it was something that was prepaid and non-refundable."
"We don't have enough information yet to be able to give a full answer, but that's our hope," she said.
In the interview on March 10, Scott also added that there would be no guarantee that the travel restriction would be lifted after April 30. "Due to the fluid nature of what we have going on, these travel restrictions are likely going to change."
On-campus preparations
Currently, the university has no plans to close the campuses, though they are planning for the possibility. In the meantime, they have added several protocols to keep students safe and healthy.
Sodexo has installed an antibacterial spray station and implemented rigorous cleaning procedures for all dishware and silverware. Communal serving equipment, like tongs, is being sanitized every hour. Sodexo employees who sit at the desk are now wearing gloves to protect themselves and students.
In the case that COVID-19 proves more of a threat to campus, Sodexo may switch to serving students, rather than the self-serve style that they currently have. Napkin dispenser have also been placed in front of each silverware rack so students can grab the utensils with a napkin, if they wish.
Sodexo has started using individual serving packets as well, to avoid contamination. "It's not great for the environment to have extra little packages for your saltines," said Scott, "but we're doing it so that you're not grabbing from the same container as the person before you."
Residential Life cleaning staff have started using stronger disinfectants, and have protective equipment on reserve, like N95 masks and Tyvek suits, just in case.
Most bathrooms and water fountains have new posters, with guidelines suggesting how to keep oneself healthy during flu season.
"These are small things that you might not even notice," said Scott, "but they are done with an eye towards improving the safety of our students and preventing the spread of infectious disease."
So how much is this extra preparedness costing the university? "Somewhere around $10,000," said Scott. "That's why we have a rainy-day fund."
Feeling feverish?
Symptoms of COVID-19 include a fever of more than 100 degrees, plus a cough, runny nose and sore throat. "If you just have a cold," said Scott, "it's not generally a cause for concern. However, if your symptoms continue to worse and you begin to develop a more significant fever, those would be things that we'd be concerned about."
If a commuting student, faculty member or staff member suspects they are ill, they should stay home. "Don't come to campus," said Scott. "Stay home and call your healthcare provider. Don't just go in and see them. Don't walk into the emergency department. Call and ask for guidance."
"If you're a residential student," she added, "we encourage that each student first tries to return home. If you live within travel distance and you can go home, we'd like you to do that so that you are not in the general community."
Students that can't return home should call Morrisville Family Health Care and ask for guidance.
No immediate plans to close campus
"You've probably heard that more than 40 colleges and universities have chosen to move their classes online," said Scott in the March 10 interview. Most of these colleges are either 1) coming off of break or going into break this week, 2) have large international populations or 3) have the virus circulating in their general population already.
March 12 Update: UVM has cancelled all in-person classes and will switch to only online, but their residence halls remain open. Champlain College, Vermont Law School and St. Michael's College have all switched to online classes as well. According to VTDigger, Norwich University has notified students that it is extending spring break by a week and is canceling all on-campus events except athletic events through March 23.
Since none of this is the case in Vermont or around the communities of NVU-Johnson and NVU-Lyndon, the task force feels that closing is not necessary at this point. "We're prepping for the eventuality," said Scott. "We're working with our faculty and staff right now to understand their capabilities to switch their class to remote instruction."
Because the situation is developing, there is no way to know exactly what might happen. "It's highly unlikely that you could close for an entire remainder of a semester," said Scott. "We [could also] shut down campus for two weeks and return when people are better. Still another could be that we keep campus-based operations but move classes online, and cancel activities and clubs and sporting events."
These decisions will be made with guidance from the Vermont Department of Health, and will be situational, based on the communities the campuses are based in.
In an email Wednesday morning, Plumb said, "We are creating a survey for students to determine how ready our student body is to receive remote instruction in the event that we need to move our studies online." The link will be available in the afternoon of March 11 and can be found at www.NorthernVermont.edu/RemoteClassSurvey.
Addressing stigma
"I can tell you that some of our travelers that have returned have not felt very welcomed on campus," said Scott, who noted that students of Asian descent returning to other universities have seen numerous incidents.
At those universities, she said, "people were walking around them, saying they didn't want to share a room with them. There are people in our country who are saying they don't want to go to a Chinese restaurant, because they're afraid of this disease."
Scott urged students to look past the stigma and be as welcoming and friendly as normal.
"We can't lose sight of who we are. We are a strong and vibrant community. We're welcoming, and we are inclusive. And we need to hold the fear in check and put that relative to the information that we have at hand," she said. "[This] doesn't mean we shouldn't wash our hands. [This] doesn't mean we shouldn't be cautious. But it does mean we need to be careful about holding on to who we are."
About the Contributors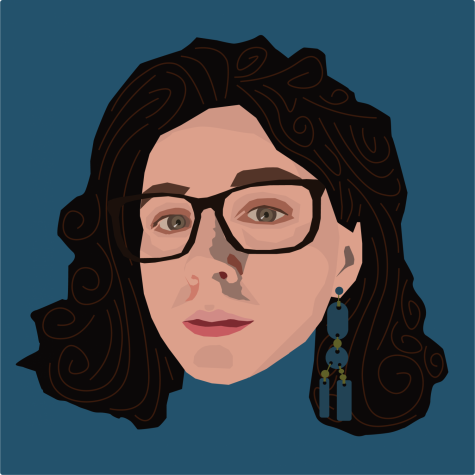 Rebecca Flieder, Editor-in-Chief
Senior, Journalism & Creative Writing
Grew up in Atkinson, NH
Fall 2018 - Present
Along with traditional journalism, I enjoy writing satire and...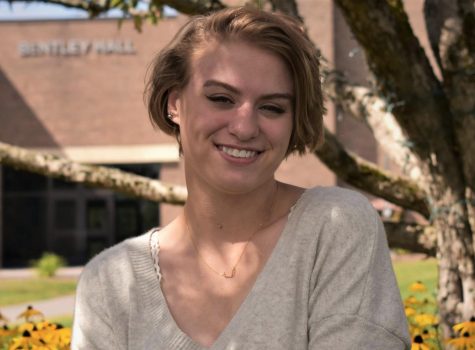 Adriana Eldred, Photo & Web Editor
Senior, Journalism & Studio Art
Grew up in Craftsbury, VT
Spring 2018 - Present

I got a black eye and mild concussion in Las Vegas during a rugby...