NVU renews testing contract with BROAD
For the Spring 2021 semester, NVU will continue working with BROAD Institute for COVID-19 testing according to Jonathan Davis, NVU dean of students.
The entire VSCS signed a contract with BROAD Institute to acquire tests for the Spring 2021 semester and have ordered tests as a unit. Those supplies will then be divided amongst campuses as needed.
In addition to the tests themselves, Davis pointed out additional costs such as EMTs to observe the test taking and medical couriers to ensure safe and speedy delivery. With all of these factors combined, Davis says the rough cost comes out to $250,000 for NVU.
"Fortunately, we qualify for some of the coronavirus relief dollars provided by the state or the federal government to help us pay for that," Davis added. "We are hoping for the same with this spring, although there's no guarantee."
The relief funds that Davis referred to expire on Dec. 30 of this year, but Davis said he is "holding out hope that that the federal government [and] the state will allow us to continue use of those funds into spring semester."
Even if those funds are not renewed, Davis stressed that testing is still essential to the safety of NVU's students, faculty and staff, and that the money will be provided. "I have that commitment from the chancellor's office and from the dean of administration, Toby Stewart," he said.
Davis said that the start of spring semester have some changes from the fall. Students will still be tested at arrival and again on their seventh day on campus. However, the day zero and day seven testing will likely have to be different from the previous semester.
Due to both to winter weather and changes in methodology, the tests will be taking place in campus gymnasiums rather than in the parking lots.
"We really liked [drive through testing] because it automatically distanced us, and it automatically distanced students from each other," Davis said.
However, because of the cold and unpredictable weather, that format will not be viable when students and faculty return to campus in early February.
The timing of the first two tests will also be different, as employees will be testing on the same days as students, rather than a week later. Details on maintaining social distancing while testing all students and employees during the first few weeks are not yet finalized.
Davis also anticipates "at least three or four opportunities per month for open testing through the semester," but is uncertain when those will be. While the fall semester saw testing take place between 10 a.m. and 1 p.m., that time slot may not be ideal for spring.
Other issues Davis hopes to work out for the spring are some misunderstandings with test result timing, efficiency of the testing process and the daily COVID-19 symptom screening.
"Students and employees who got tested sometimes misunderstood the 24 hours," Davis said. "It's 24 hours from the time that the samples arrive at the lab and not from when it was collected."
Davis said he wants to clarify that the tests often don't arrive at BROAD Institute's facilities until as late as 10 p.m. the day they are taken, so results may not be as speedy as some were expecting them to be.
"We want people to come to the testing site and breeze through… as opposed to long lines," Davis said. To remedy the waiting, Davis said he is hoping to train more workers to print labels and have a few extra EMTs to oversee the testing.
There have also been discussions in the VSCS about proposing to the State that they revise the screening methods. "We feel like if we set up the right process, and it's report when you're sick only, that that would be easier for everyone," Davis said.
Davis is also hoping to revise the reminder system should the daily screenings still be required, so that they would only be sent to residential students, staff and faculty.
"Agreement to wear masks and to distance and to test is what made this a successful semester… in that we were able to open up the campus," Davis said, thanking students and employees for their efforts and sacrifices to keep the campus safe.
About the Writer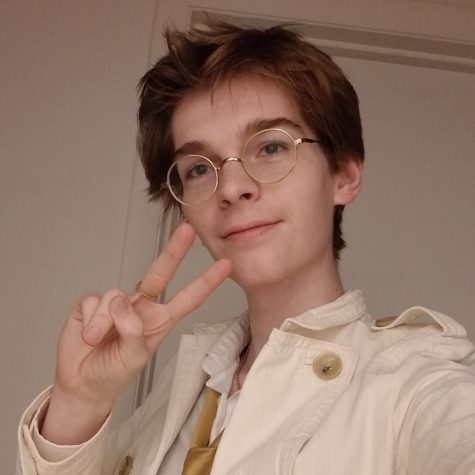 Soleil Devyn Borthwick, Managing Editor
Senior, Creative Writing
From Fletcher, VT
Spring 2020-Present

"Call me mommy and I'll bring you blankets and hold you while you cry."