NVU and League of Vermont Writers sponsor writing contest
A writing contest open to all Vermont high school students, jointly sponsored by NVU's Creative Writing program and the League of Vermont Writers, launched Sept. 1 with the opening of submissions in poetry, nonfiction and fiction.
NVU-Johnson has long offered a Bachelor of Fine Arts in creative writing. The League of Vermont Writers, founded in 1929, is Vermont's oldest association of writers and has included many prominent Vermont authors over its long history.
NVU Professor of Writing and Literature Tyrone Shaw thought a partnership with the League would be a natural fit. He and League member and author Hank Parker, with the encouragement of the League's board of directors, began to organize the contest over the summer, amply assisted by NVU's marketing department.
"NVU and the League conceived of the contest to encourage and celebrate the next generation of Vermont writers," said Shaw. "Young writers especially need encouragement and support. This contest is designed to provide that, as well as recognize the schools and teachers that provide the foundation of their education."
Parker agreed, noting that "the most important goal is that as many high school age students as possible are stimulated and encouraged to write."
The contest is being publicized through flyers in libraries, newspaper ads, press releases, word of mouth and more.
"We have communicated with every single high school, union school [and] independent school in the state, to the principals, as well as to the homeschooling community, and provided the background about the contest, the time frame, etc." said Parker.
He added that the NVU community "could just talk it up and get it out, maybe print out some fliers, hand them around or whatever. All of those things will help a lot, because I think we want to be overwhelmed by the numbers [of submissions], we really do."
Shaw said the contest will be judged by "[nine] really good writers who have graciously consented to serve as judges." The judges will be separated into three panels of three to judge the various categories of submissions.
Shaw, who had attended this event previously, said that "it was just an absolutely beautiful thing, and I've missed it terribly for over 12 years. I can't remember when the last one was. So here we are, reprising it."
Winners in each category will be awarded $500 and runners-up $100. Additionally, "the winners and the runners up from each category will be recognized at a public event at NVU in the middle of January next year, and that event… will include invitations to the teachers and the family members of the winners," Parker said.
Shaw and Parker both are hopeful that many high school students will submit their writing.
"Tyrone and I both especially hope [the contest] will get a ton of submissions," Parker said. "That's the main thing. And then we hope that in turn will open the gates, the floodgates to more interest in this for the future."
Shaw encourages high school writers to submit to the contest, saying, "If you've got something to say and you want to share it with the world, that's really important. That's really good, so go — submit, submit, submit."
Submissions close on Nov. 15. For more information on the contest go to https://www.northernvermont.edu/vermont-high-school-writing-contest.
About the Writer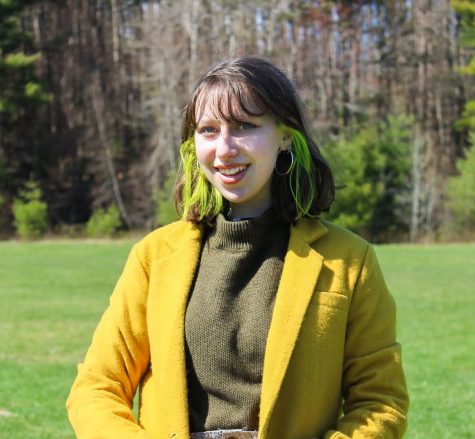 Delilah Kramer, Staff Reporter
First year

Commuter, from Underhill VT

Fall 2021-Present

I enjoy sewing, Dungeons and Dragons, and eating popcorn.

.-...