State of the University: we're working on it
Amidst progress on transformation and focus turning toward the future Vermont State University, it can be easy to forget that work is still being done to better NVU's operating methods alongside recruiting and retain students.
This was the theme of the recent State of the University Address given by members of President John Mills' team. "Traditionally, as president, I get the credit or blame, but they're the people who do all the work," Mills stated before passing off the podium after only a few sentences to start the event.
Provost Nolan Atkins spoke on the progress of the learning working community, identifying new hire Vin Favoroso who has been with NVU for a few months building relationships with local businesses and organizations in hopes of coordinating this new program.
It seeks to provide students with paid internships and other opportunities, allowing them to take the abstract learning done in the classroom and apply to real world scenarios and experiences. While the program has seen its initial progress supported by a 3.5 million dollar alumni donation, Atkins said future funding is being sought out.
"The one idea that resonates most with the prospective donors we're working with is [the learning working community]," he said. "This has an amazing, direct impact on students' ability to afford a college education and reduce the amount of debt they leave with."
Dean of Students Jonathan Davis gave an update regarding new hires and new systems at NVU. Of particular note was a new VSCS portal being developed. Davis said the new portal will operate through a program called CampusM produced by the company ExLibris.
Davis noted the age and declining function of the current portal and said the new one will be better optimized for mobile and that students and faculty "will be able to get into [their] email and canvas without having to login multiple times," which received humored applause from the audience.
Davis also discussed the university's response to the COVID-19 pandemic, commending the work of the community at reducing risk while acknowledging that more must be done. "No longer will we say we see light at the end of the tunnel, because we just don't know yet," he said.
Victoria Dutcher, dean of enrollment and marketing, and Sylvia Plumb, director of marketing and communications, each discussed plans and methods of increasing enrollment at NVU and indicated improvements over the past two years.
"Our spring applications are up 31% from 2021 and 62% from 2020," Dutcher said. She also noted that applications for fall 2022 have increased marginally over the past two years' numbers.
Dutcher said that admissions counsellors have been back out doing work in recruiting high schoolers, both in state and out of state. She also noted that the enrollment pipeline is being expanded to target more transfer, online and graduate students to NVU.
Plumb said other work being done in the realm of admissions includes surveys for prospective students which allow them to indicate how likely they are to attend. "Admissions can get the reports from those students and zero in on what groups to pay attention to," Plumb said.
In addition, Plumb said search for students has been brought in-house rather than being contracted out. She said this reduces the cost of outreach and recruitment and also helps the admissions team stay more informed and aware of the work being done to increase enrollment.
Dean of Administration Roy Brock gave a presentation on hiring and positions as well as fiscal information for the past few years. "We have 19 open full- and part-time staff positions… across both campuses," he said. "These are really critical positions that we need to fill."
Brock said that when he first joined NVU in July, the list of open positions was higher–up around 24. While he said this certainly indicated progress, more work is still needed.
"We're really focusing on trying to get ourselves down, in the spring, to a manageable three-to-four regular open positions which is normal in the system," Brock said. In addition to those roughly five new faculty hires, Brock said 16 new support staff members were hired.
When discussing budget performance, Brock discussed how emergency funding due to the COVID-19 pandemic has significantly reduced NVU's deficit in the past few fiscal years. Fiscal year 2019 saw a $585,000 loss; fiscal 2020 saw a $746,000 positive; fiscal 2021 saw a $153,000 loss.
Brock noted that these last three hears have provided nearly a net-zero budget for the university, but he said the past seven have an average loss of $246,000. "Not a sustainable model," he said, "but we're looking at a number of [solutions] moving forward."
Brock said his primary focus in potential money-saving tactics is reanalyzing existing contracts to determine whether return of investment is being met. Brock also discussed grant funding, much of which was increased by federal Higher Education Emergency Relief Funds, which will likely see a decline as the pandemic normalizes.
While most of the address focused on changes to NVU, Provost Atkins did give a brief update on transformation efforts, specifically program optimization. Selected to be the provost of VSU when it launches, he has been heavily involved with this task.
"The faculty are in the process of continuing this optimization work, and e'll be moving through the governance process [and] the approval process imminently," Atkins said. "The critical dependency of this is to know what this program array looks like by this spring."
Having the program array completed by this time will be important for the admissions and marketing teams to be able to recruit current high school juniors as new students for fall 2023 when VSU launches, Atkins said.
About the Writer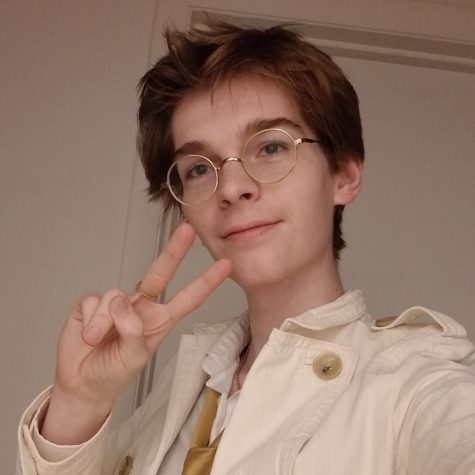 Soleil Devyn Borthwick, Managing Editor
Senior, Creative Writing
From Fletcher, VT
Spring 2020-Present

"Call me mommy and I'll bring you blankets and hold you while you cry."