Minority student center opens
On Tuesday, March 15, Northern Vermont University Johnson welcomed the new Mamadou N'Diaye Resource Room for minority students on campus.
The room is located in Dewey Hall room 149 and is a product of collaboration between the Coalition of Minority Students and the Diversity, Equity, and Inclusion Committee.
After working with their current advisor, Brian Slater, the group was able to find a space to call their own. "It was originally I think the feminists' room, but it wasn't being used," says Dayne Bell, a member of COMS. "That was the issue. And we were like, okay, other clubs have rooms, and we didn't have a place to meet."
Once the location was nailed down, it was time to make this place their own. "We gave it a lot of love and a lot of renovation, and it's our center now," says Devyn Thompson, the current president of COMS. "And I feel like we appreciate the room more because we literally did it all ourselves, right?"
The inside of the room is painted black and white with blue and yellow accents, and is covered in various flags and posters representing multiple countries and nationalities.
"My vision was I wanted representation," says Thompson. "So I wanted posters of people that our group looked up to, posters with mental health resources. We have pictures of strong black men in our community, people that we look up to, motivational posters with our faces on them. I wanted something where students of color can go in there and feel like they are somebody."
The creation of the room as it is now was a group effort, and every member of COMS had the opportunity to add their own personal touch to their home base.
"We all had a part in decorating the room, making it look the way we wanted to," says Bell. "We have a bunch of different flags hanging around the room to support nationalities and movements and different states, everybody that encompasses COMS, along with some fun stuff. We have posters of Dora and Megan Thee Stallion."
COMS is hoping to use this space for more than just a safe place for the members to meet. "Currently, we are getting study sessions in place," says Bell. "I think it's open to everybody, but it's just a matter of finding out when members of COMS are available." As of now, the room is not open to non-members.
"Along with the study sessions, we're figuring out telehealth appointments," says Bell, "times when members of COMS and other POC on campus can have access to medical care and therapists if they don't have cars to get off campus." Mental health is a major concern of the group, since they want to be heard and understood by people that know what they are going through.
The room is also going to be used for fun events. "We hosted a COMS art gallery where we not only accepted art from POC on campus, but from everybody," says Bell. "We showcased it in the Dewey hall next to the bookstore. It was just something to get COMS out there, kind of like a starting event. And then later on, we're going to have some more events, like a sip and paint for the open house."
The hope of COMS is to get their name out across campus with these events and to invite anybody that may feel misunderstood or not represented.
The Mamadou N'diaye Resource Room, which is its official name, is named after a special member of the Johnson community. "Mamadou N'diaye was a student here at NVU Johnson," says Bell. "Mamadou passed away and we feel like the campus didn't handle the situation in a way that was appropriate. So this room is dedicated to Mamadou and everything that he stood for as a minority on campus."
"He was a men's basketball player," says Thompson. "He was a media arts major and he was a very close friend of mine."
N'Diaye passed suddenly on July 24, 2020. "It didn't just affect me, it affected everybody," says Thompson. "Mamadou physically isn't here, but he's here on this campus. He's left his mark."
"We just want people to know that the room is there for the minorities and people of color on campus," says Bell. "We want to make sure that they know COMS is working for them. We're working with them. We want to be able to help them feel comfortable on campus in a space that is mostly non-minority. We want to let them know that this space is here for them to come and just let out their frustrations or their anxieties and just feel comfortable, feel safe in a place where they might not feel that otherwise."
About the Contributor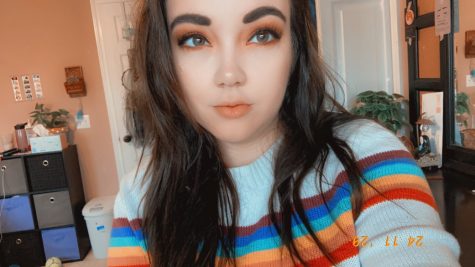 Alli McLaughlin, Arts & Entertainment Editor
First year student from Orlando, FL.
Working on her second bachelors.
Love poetry, anime, and her dog (mostly her dog).
Dreams of living in a van.