New advising model set for fall
Over the past few years, the advising models across VSC campuses have gone through multiple changes. Many students began their education at Johnson being appointed major-specific faculty advisors. More recently, students were given both a faculty and first-year advisor. Some were provided upper-class peer leaders as well, all tasked with helping students navigate college life.
Now, VTSU is implementing an all-new advising system, intended to increase student support and retention.
According to Sara Kinerson, the vice-president of Advising and Career Development for VTSU and longtime director of the advising center on the Johnson campus, the model was created after the National Academic Advising Association came to survey the current one back in September of 2022.
"We wanted to make sure that students have a completely equitable experience with advising," she said. "This model will guarantee that every student of VTSU has a person that they get to know who is there to help them."
The model uses what they are calling "student success advisors." Incoming first-year students for the spring 2023 semester will be appointed one as early as May, and the advisor will work with them for their entire 4-year education.
Current students will not be assigned a success advisor, but each campus with residential spaces will house a Student Advising and Success Center, where all students can receive guidance.
Kinerson called this advising model "team-based," as students will still receive a faculty advisor specific to their major.
Faculty advisors will continue assisting students with degree-specific issues like schedule planning, internship help, and preparation for graduate school. Success coaches will begin contact during the summer to connect, answer questions, and help ease the transition into college life. Throughout the years, they will meet with students to discuss specific topics and be available as needed to connect them to the necessary resources.
"We have an outline of things we want to make sure students are introduced to and have conversations about during their first year," said Kinerson. "Things like time management, developmental skills, and goal setting."
It is expected that about 18 advisors will advise all VTSU students, online, in-person, and distant, but Kinerson said that the model includes room for growth.
Each advisor is expected to take on 150-175 first-year students this upcoming spring. Many of these coaches are already staff members in advisory positions, though the search for coaches is still on due to limited staffing on some campuses.
Some of these success coaches will come from the TRiO programs across campuses, but current and future TRiO students do not have to worry. This model only changes the title of TRiO mentors, and the experience for current and incoming students in the program will remain the same.
Emily Mixon, Johnson's Writing and Development Coordinator for TRiO, will become the Writing and Humanities Specialist for VTSU. She believes that the TRiO advising models are to be adapted because not every campus in the system offers TRiO services.
"The idea is that every incoming student gets assigned a student success advisor under the advising department," she said. "If [they] become a program participant, new TRiO students wouldn't be necessarily assigned a TRiO mentor, but they'll still able to access trio services."
Carrie Patterson, TRiO mentor and student development coordinator, is one of the TRiO advisers to be transitioned into a success coach position. First-year TRiO students are likely to be assigned to her as mentees.
"It's my understanding that I will continue to work with TRiO students," said Patterson explaining that she mentors around 50 students currently. "I'm looking forward to working with students in this capacity. I think it'll be a good change."
Along with Patterson, success coaches assigned primarily to the Johnson campus are Alison Chiarelli, Norm Peterson and Ryan McClure, with Brady Rainville appointed associate director of Advising.
"My main responsibilities will be to oversee the Advising Center on the campus, as well as train and supervise the student success advisors and student success assistants," he said. " I will develop and assess student success intervention strategies and programming, with the goal of supporting and retaining students."
The other associate directors of advising in the system are Kate Gold at Lyndon, Shelby Day for the Randolph and Williston campuses of Vermont Tech, and Svea Howard for Castleton.
While the complete details of the model are still being worked out, a few complications have begun to emerge.
Julie Theoret, chair of the math and interdisciplinary studies programs at Johnson, said there were issues back in 2018 when an alternate advisory model was proposed, some of which appear to be resurfacing.
"Our contract dictates that advising does fall under the purview of faculty," said Theoret. "The initial plan was that the staff advisors would get the students in their first year and then transition them in the spring of their first year to a faculty member in their academic department. Faculty normally would help to register the incoming first-year students in their programs, and now these professional staff advisors were taking that out of their hands."
The solution was communication. Programs were given a choice about how much involvement faculty wanted to have with first-year registration, and Theoret said that taking a similar approach this time would be "the best way to move forward."
Theoret noted that students have expressed difficulty meeting with faculty advisors in the past. It's not uncommon for a student to meet faculty for advising purposes 1-2 times a semester, whereas communication with staff advisors occurs much more frequently.
"Sometimes students can be intimidated by faculty,"Theoret said. "We have PhD after our name or a doctor in front, and for some reason, the staff seem more approachable. To me, it's a positive thing when the students have some options."
Mixon also feels the new model will have benefits all the way around. "Faculty advisors are full-time [and] have other things they are balancing. The staff advisors are trained in all the system stuff; they are there for that nitty-gritty detail," she said. "The faculty advisors can then be better utilized by the students, focused more on career exploration in the field and how they'll use their degree."
About the Contributor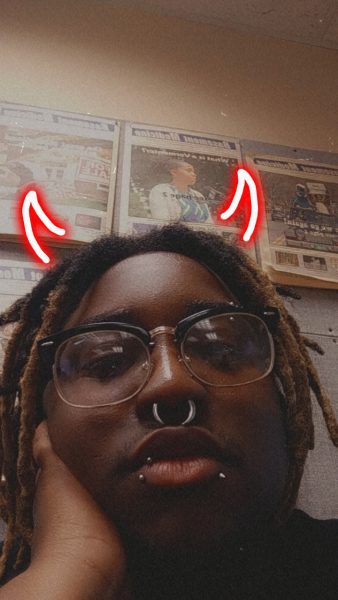 Dayne Bell, Editor in Chief
Dayne (he/they) is a creative writing student who has probably already told you where he's from. His zodiac sign is Pisces, which tells you everything...