Bye
His horns and tail might be hidden on this mortal plane, but the devil walks among us…for now. After a 30-year career here, Professor of Writing and Literature Tyrone Shaw will be leaving the Johnson campus at the end of this Spring 2023 semester.
Ok, that might be a little harsh, but when the cat's away the mice will play. Since Shaw oversees this publication, but is keeping his paws off this article, we thought we would take some liberties. Now that we have your attention, here's what we want you to know about one cool cat, Tyrone Shaw …
While he'll be taking some time "off from thinking" about what's next for him, Shaw is adamant about the fact that he has more to do. He has plans to pursue various projects he's had "on the back burner," including writing, music, and babysitting his grandchildren.
Shaw discovered his "surprising" love for academic teaching in 1992, when he began working at CCV. After being urged to join the Johnson team by former professors Tony Whedon and Gene Sapadin, along with former department chair, now professor, Dan Towner. Towner hired him on as an adjunct professor in 1993.
"I think he's been regretting it ever since!" says Shaw.
Since joining our community, Shaw has been delighting those around him with his quirky, charming, mildly bizarre personality. Humanities Department Office Manager Sandra Noyes and Professor Russ Weis both recall one of his most memorable antics.
"I remember the time that he was teaching, and the papers were coming in so bad," says Noyes. "He had a can of pea soup and pretended to puke onto the papers."
"He spit it up all over the desk in a sort of exorcist fashion, just to get and hold the attention of his students," says Weis. "He will go to great lengths to do that."
"I think I'm reasonably stable," said Shaw. "I think if I were a dog, I would be a golden retriever. I like people. I tend to anyway. Even people who are hard to like, I tend to like, and maybe that's the best thing that could be said about me – and the worst."
"The worst thing I can say about Tyrone is that he always seems to make me look bad," says Interim Academic Dean Les Kanat, "because he is so witty and such a breath of fresh air."
Many of Shaw's other colleagues share the same sentiment, like Noyes, who recalls how much she appreciates the smile he brings to her office in the mornings. Professor Janet Bennion appreciates his tendency to share "not funny" dad jokes, and the playful banter Shaw partakes in with other colleagues. "He's never thrown an insult to me," says Bennion. "I'm waiting for that moment when it'll be my turn for him to roast me."
Weis, notably recognized as Shaw's twin (and the less evil one at that), notes how honest and caring he is even to "the lowliest adjunct," despite Shaw's half-hearted attempt to hide his "heart of gold" behind a rough exterior.
Even past students who have seen very little of Shaw since their graduation hold vivid memories of the professor. To those like former student Rye Flieder, who worked closely with Shaw as one of one of Basement Medicine's student editors, it's obvious that Shaw is deeply concerned with the wellbeing of his students and advisees. "[He'd] sit down with me in the Basement Medicine office to ask me what I needed," said Flieder. "'But really, seriously,' he would say, 'how can I support you through this?'"
"I would not be the person I am in the role that I have, who did the things I did and accomplished, without his influence, without his guidance, without his support," says TRiO Advisor and Johnson State Alum Emily Mixon, with tears in her eyes after sharing similar stories.
Current and former students of Shaw's can see the change that he has made, both on this campus and in their lives, and the passion that he has for doing so.
"I remember thinking, 'what a kooky, fun guy' and it was very, so engaging," says student Gabby Wells. "Initially [I] was very intimidated because he has a big personality, but having had him as my advisor this past year, I've grown to see that he's also very gentle and kind."
"After everything happened … this semester, he was there for (the students), trying to talk with them and see how they feel, and was actually caring and compassionate," says student Christina Ashley.
His coworkers speak highly of his work ethic and professional accomplishments as well as his personality, which embodies the "force" that Towner describes him as being.
"He resurrected Basement Medicine … It really was pretty sad … when he took it on, and the energy that he's devoted to that has been remarkable," says Towner. "He really turned it around and made it into something worth reading."
"He's got a strong presence even when he's not speaking," says Brady Rainville, Associate Director of Advising.
Both students and coworkers were eager to express their appreciation and gratitude for Shaw.
Throughout the many interviews conducted during the writing of this article, interviewees couldn't help but smile and laugh as they recalled their time working and interacting with Shaw.
"He really has been a mentor to me," says Weis. "I'm grateful for my time with him. I'm a better person and teacher because of it." Others share similar feelings that they would not be who they are and could not imagine their lives without having met Shaw.
"Tyrone made my college experience," says Sammy Estepp. "I don't think it would have been the same without him."
Many feel that Shaw is an integral part of the Johnson experience and are sure that the campus will feel different in his absence.
"He embodies the real spirit of what makes this institution so special and so strong, which is a clear devotion to his craft," says Isaac Eddy.
There are, of course, many reasons for one to cry, and when it comes to Tyrone Shaw there is no shortage of tears. "I just want to thank Tyrone for everything," said Mixon, breaking into tears for the second time in one interview. "Absolutely everything he has done to encourage me, support me, guide me and introduce me to opportunities. Even though I am no longer a student, the man still looks out for me and wishes the best for me. The things that he has been able to motivate me through and support me with, I can never repay him for. So, thank you, Tyrone."
To those who have had Shaw as a professor he says, "Forgive me."
To those who have not had the pleasure of being taught by him Shaw says, "Count yourself lucky."
Shaw added, "These 30 years have been the most wonderful professional part of my life, and in many ways personal as well. And life with my Nance, and the kids, and one-legged chicken, and all of our beloved pets. But seriously, professionally, this has been the sweetest job I have ever had and it's not easy to leave it, but one must not stay at the party too long."
We recommend reading "Rosetta the Hen," Shaw's article about his dinosaur in the Summer 2010 issue of the Poultry Press, at ucp-online.org.
Rosetta the Hen – UPC Summer 2010 Poultry Press (upc-online.org)
About the Writer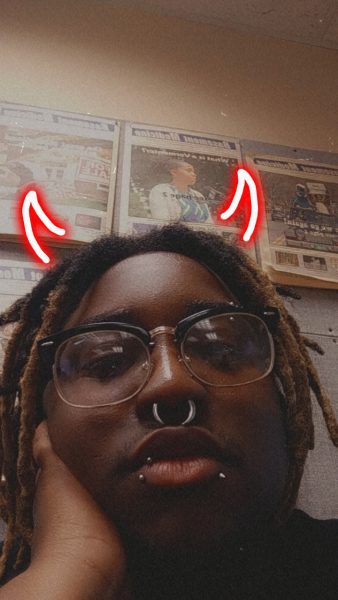 Dayne Bell, Editor in Chief
Dayne (he/they) is a creative writing student who has probably already told you where he's from. His zodiac sign is Pisces, which tells you everything...