Ed. Dept. set to hire new professor
After a year-long process, the Education Department at NVU Johnson has concluded their search for a secondary education professor. The university has made an offer to one of the two finalists, and the department is now waiting for a response.
"One candidate is a very strong relationship builder. Her research is community oriented, and she's very student centered in her work," said Hannah Miller, associate professor and chair of the department. "The other candidate had a different strength. Her focus was on literacy, whereas (the other's) focus was on social studies, and she was a great communicator."
The finalists visited the Johnson campus in March and early April, when they toured and met with varying groups of students, staff, and faculty.
Miller pointed out that the process of launching a search and vetting candidates is time-consuming and rigorous.
"Last year, the summer of 2022, we were approved to post a position," said Miller. "As a department, we work on crafting the job description together. We post it online and we ask for applications to be submitted ideally by October. That gives people time to look into the institution and decide if they want to work here."
Application review began in October and was conducted by a committee of staff, faculty, and students. Along with Miller, the members of this committee were Rebecca Pastor, education Department licensing office coordinator; Brady Rainville,staff advisor; Dr. Monica McEnerny, a faculty member at Lyndon; and Kyle Wu, a student in the program the professor would teach in.
"It's important for us to work as a committee to make the hiring process as equitable as possible. We try to be very transparent in our communication with candidates," says Miller.
The committee first reviewed applications together, narrowing down the list by looking at the applicants' qualifications. The pool was then narrowed further as the team chose a select few to meet for Zoom interviews. Miller noted this part of the search was time-consuming and didn't conclude until December.
Miller noted the visits are an important part of the search process. "We see it as an opportunity to really get to know people and help them envision themselves as part of our community, so hopefully when they want to join us, they will feel comfortable and welcome here," Miller said.
Once interviews were completed, the committee decided on two candidates to invite to campus. Though narrowing the list is a complicated process, Miller says the committee had "tools" to help with evaluations. It generated a list of qualifications "as outlined in the job description," and created a table to note and accurately assess how each candidate met their requirements.
"Both (finalists) were very passionate about building diversity, equity and inclusion into their teaching and scholarship, which is also why they stood out to us," Miller said.
The committee then sent their recommendation to the provost, Nolan Atkins, who shared this information with the president.
Should they accept the offer, the new faculty member will teach secondary education starting in August, teaching courses for secondary licensure and unified arts students.
About the Writer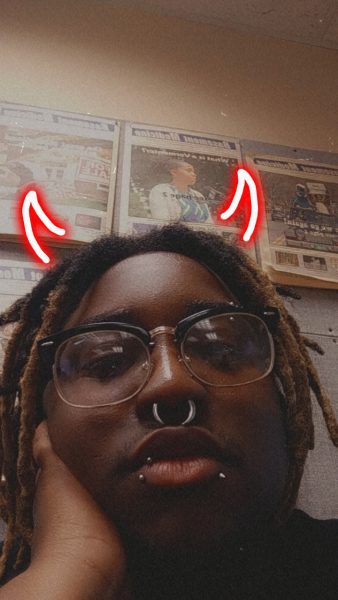 Dayne Bell, Editor in Chief
Dayne (he/they) is a creative writing student who has probably already told you where he's from. His zodiac sign is Pisces, which tells you everything...