Library digitization plan shelved following months of backlash
Newly installed Interim President Mike Smith has rescinded controversial plans to eliminate most books from campus libraries as part of a digital-first initiative, putting to rest months of protests and community backlash across Vermont.
Prior to this announcement, plans initially revealed in February called for immense changes in library collections and how they function.
While those plans were ostensibly "data-driven," library personnel across all campuses have challenged the interpretation of the data used to justify the widely reviled plan to gut library resources, with up to 80 % of the collections eliminated.
As part of that plan's justification, according to the administration, more than 30% of the library budget is spent on volume management and circulation and that it is necessary to "make significant changes in how these financial resources are allocated."
Library maintenance includes discarding unused materials, repurchasing or repairing damaged materials, and other manual tasks like reorganizing shelves.
As the circulation Coordinator at Johnson, Jeff Angione is responsible for hiring, training, and managing students and staff in library positions in addition to running maintenance.
Jean-Paul Orgeron, the Johnson research librarian, said that library staff were told that the savings made from this decision were "the result of library staff losing their jobs."
A few years ago, there were seven staff members and 27 student workers keeping the library running as normal.
Now, the management, circulation, and upkeep of the library materials falls on the three remaining staff members – Alice Godin, Angione and Orgeron – and 11 student workers.
Further justification for removing most of the books is based on data showing that the majority of materials in the libraries aren't being used.
"Our library usage is a direct reflection of enrollment of on-campus students," Angione says. "When you have fewer students staying on campus, your circulation is going to reflect that."
Regarding circulation data, Orgeron cites what is known in the library world as the 80/20 principle:
"It basically means that 20% of your collection gets 80% of the use. As academic trends go up and down, different parts of the collection get used. One hundred percent of a collection is never used at any one time."
He noted this principle applies in other areas of circulation as well, providing essential context to understanding the data.
"Only 20%of users are responsible for 80% of the collection that circulates. What they found over time is that any campus you go to, you have this hard-core group of library users, usually based within disciplines that are book heavy. It's just an expectation."
As further justification for the removal of most books, the plan noted, "Requests for physical materials and books have decreased by more than 83% between 2014 and 2022, whereas requests for digital materials have increased by well over 300% at our three institutions."
Orgeron says that this is an unfair comparison. In a physical library, patrons can pick up and browse books at their leisure. The materials counted in this data only includes items that find their way to the circulation desk, either for checkout or because someone left it on a cart or table to be counted and shelved properly.
In comparison, browsing or clicking through digital resources counts as "use" whether you use the material or not.
"There's a real distinction there," Orgeron said. "When we see large usage of, in terms of numbers, electronic items, that is the result of a user clicking on an article title to see if it might be of interest to them. To read its abstract, even if it turns out that article is not appropriate for their research, counts as a use."
More importantly, the decrease in requests for physical materials may be due to the lack of access to the available resources for purchasing them.
"We have this alumni fund that is specifically set up for purchasing books, yet we're not allowed to touch [it]," says Angione.
He says the amount in this fund was initially $13,000 and has been "gaining interest."
Additionally, Angione says that "well over a year ago," the library staff were told that they weren't allowed to purchase physical materials, regardless of the fund.
He said library materials have always been chosen for purchase with the curriculum in mind. Staff look at trends and research popular materials that would work with the changing disciplines provided on campus, along with requests from faculty.
How exactly the weeding process would unfold was not clear in the plan, but such a process is labor intensive and takes time, according to Orgeron.
For materials to be weeded out, staff must go through and manually remove each item from the catalog. This process would be necessary to accurately reflect the library's remaining contents.
"There are methods that you employ to do that kind of work," Orgeron said. Prior to the April 24 announcement, Orgeron did not believe that the imposed July 1 deadline provided a realistic amount of time to complete the task.
Orgeron believes the "digital first" mandate is also unrealistic. "When eBooks first were being developed, we noticed, I think librarians continue to notice, they don't get the use that many thought they would," he said. "I think that is indicative of what most students and faculty want from a library. They want certain things in certain formats, and other things in other formats."
Smith also announced that plans to lay off seven library personnel have been rescinded.
About the Writer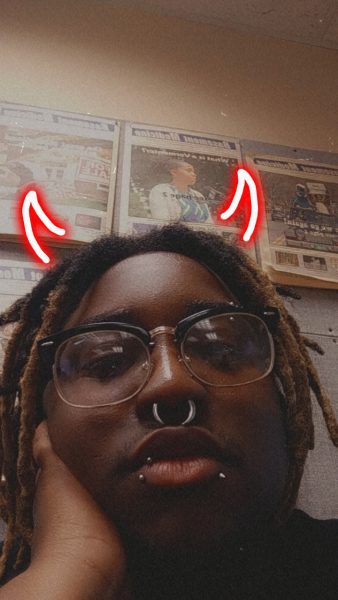 Dayne Bell, Editor in Chief
Dayne (he/they) is a creative writing student who has probably already told you where he's from. His zodiac sign is Pisces, which tells you everything...