Learning with Les Enfants de Dieu
Health Science and Physical Education major Ally Battaille has learned many things since her January arrival at Les Enfants De Dieu in Kigali, Rwanda for the spring semester.
Les Enfants De Dieu or 'Children of God' is an orphanage that is home for 120 boys who have been living on the street. Many of the children are members of poor families with parents that cannot afford to raise them, a big reason why the boys move to the streets. Another common reason is child abuse. The kids leave for the street when the beatings become too unbearable. On a brighter note, the boys also come to the center to give themselves a better future by getting an education all the way through secondary school, which the center pays for.
After saving for three years, accepting donations, and receiving a mini-grant from the SGA to help pay the approximately $4,500 needed for her four-month stay, Battaille boarded her flight amid snowstorm delays, mechanical delays and an unexpected overnight stay in Brussels, Belgium making for a 24 hour delay before she finally arrived safely to volunteer in Rwanda.
Even though the center is a wonderful opportunity for the street boys, one of the first things Battaille learned about after arriving was that there were problems that needed to be addressed there. Battaille's friend Elena Bilodeau, another volunteer who arrived in September, had reached a roadblock in dealing with those in charge. "She began noticing that things weren't exactly how we saw it in 2009, and the ministry system the boys use to run the center had crumbled," Battaille said. "The staff was taking advantage of their free time and nobody was being held accountable. They weren't listening to the boys' needs and wants; it became a huge issue. Also, money was being stolen from the center by staff members, the boys were receiving physical punishment, nobody was there for them, and they didn't trust any of the staff."
The two volunteers contacted the owner of the center, Faraz Ramji who lives in Kenya. "He told us he would be arriving Friday evening to speak with us and begin to solve the problems," Battaille said. That weekend they held meetings with the boys at the center and with former boys of the center, then discussed what was happening and what needed to be done.
Ramji put together a plan of action, and the two women have been his eyes and ears the past few weeks, making sure that the changes made are going smoothly. One of the biggest changes has been the absolute prohibition of physical punishment. Any staff member who beats a child is automatically fired. "You could tell a weight had been lifted the Monday following these changes," Battaille said. "The ministers were taking their job seriously and the staff was answering to their requests. The boys were very thankful for the work we did to make these changes and are always thanking us every day for making them happy," she said.
One of Battaille's ideas before arriving was to organize a physical education class to teach the boys new games to play during their free time. Together Bilodeau and Battaille have started running an English/Physical Education class. "We make new vocabulary words all the time that go along with the games we are teaching," she said. "So far I have taught them several different tag games—what a beast that was to tackle—and kickball. They are still trying to understand all the rules to kickball, but they are getting the hang of it."
According to Battaille the most difficult part of teaching games is to get the boys to work together as a team to get the runners out instead of personally running the ball back all the way from outfield. "But, they're getting it, and it's so exciting," she said.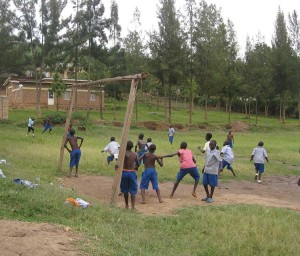 A new library project was started, which will allow the boys to have access to everything the center has to offer, including books, resources games, toys, and puzzles. The items have been taken out of storage and organized.
With the new plan, there will be a check-out system allowing the boys to take out any book or game to look at or play with.
There are now rules in place: if an item is not returned, check-out privileges are revoked.
Together, Battaille and Bilodeau have cataloged all the books for the library and are working on building new book shelves. "We are so excited for the buildings to be finished so we can start moving things in and organizing," she said.
Battaille is also busy implementing a system to disperse the many items that are donated. The shirts, shorts and shoes, school and art supplies, that were sitting in storage are now being handed out.
One surprise lesson of the trip for Battaille was the difference in language.
"I never imagined that it would be so hard to explain the rules of kickball," Battaille said. "The language barrier is huge, and we try and explain the rules using the vocabulary words we created."
Flashcards showing a picture and using words in English and in Kinyarwanda, the local language, help.
"I have learned to be very simple in all my descriptions," she said. "I have also learned the importance of patience. Not every child is going to understand what you want them to do. I have learned to celebrate small milestones such as when the boys are quiet while listening to directions. That was such a major accomplishment for the class, and we rewarded them with a fun game of soccer."
Battaille thinks the biggest thing to do when deciding to visit a foreign country is to do research on the area you want to go.
"I would give lots of advice to someone thinking about going abroad," she said. "It helps to find people who have been to wherever you are going. The more contacts you have, the better. Also, there are so many blogs out there; definitely read people's blogs to get a better idea about where you're going."
She originally went to Rwanda in 2009 and had an idea of what she was getting into.
"I would recommend going to wherever you are thinking of going to because you can never have too many experiences," she said. "If you really want to go somewhere and do something, do it because you will always learn something that will change your life. I am here to expand my views, education, and understanding of world issues. I am here to make a positive impact on children's lives. I am here to learn from them just as they are learning from us."
About the Contributor
Leisa Kelsey, Staff Reporter
Leisa Kelsey joined the Basement Medicine staff in spring 2011, serving as a staff reporter specializing in features.  She graduated from Johnson State...