Icelandic February: fissures and phalluses
So…Iceland in February. When I started telling people I was going to Iceland for a few days over break, I got some strange reactions. "Usually people go somewhere warm during the winter in Vermont," people said. Well, with the average temperature about ten degrees warmer there (the high 30s as opposed to the 20s here in Northern Vermont), that's not a valid concern for me, especially when the actual temps we had while there were pretty much the mid-high 40s the whole time.
Why Iceland? I had never thought about visiting Iceland until my sister called me up and said she had just gotten an e-mail from Icelandair with an awesome deal, $742 for round-trip airfare, three nights in a hotel, breakfasts, and a Northern Lights adventure with an amazing lobster dinner. Hey, what the heck, you can't go to Montreal, Boston or NYC for the same four days for any cheaper than that. So why not? So I said, "Yeah, let's do it."
Shortly after I decided to go, I was alerted to an interesting attraction in Reykjavik, The Icelandic Phallological Museum. This museum, located right on the main walking street in Ryekjavik, was put on the short list of things to do in Iceland. Boy, did I build it up in my head, but how do you resist the only phallus museum in the world, over 289 specimens from 93 different species, 215 of them from Icelandic native species.
After an overnight flight (only 4.5 hours non-stop from Boston), my sister and I arrived at Keflavik airport at 6:30 a.m.
Reykjavik is about a 45-minute bus ride from the airport, and transportation is provided on a wi-fi equipped bus. Upon arrival at the hotel, a locked area was provided for our luggage while we walked around the city waiting for our room to be ready.
I went to Iceland with a long list of stuff I wanted to do, and knowing that I wouldn't get to all of them was fine. It would just give me an excuse to go back. Topping the list though was the Phallological Museum, the geysers, the Blue Lagoon, and getting an Icelandic tattoo (researched thoroughly before I left).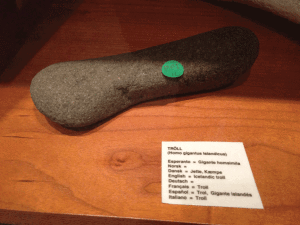 First on the list that morning though was breakfast, our only non-included breakfast of the trip.
Fortunately, right around the corner from our city-center hotel was a wonderful coffee shop, Gaetan.
First shock of the day, Icelanders don't tip. Servers and bartenders get paid well, and it is not customary to tip. But for a mere 1200 Kronur (about $9.50) we got an amazing breakfast; eggs, piles of bacon, a pancake, a ham and cheese roll-up, some sliced fruit, a chocolate chip muffin (still warm from the oven), and a wine glass with a Tequila Sunrise-style juice concoction. Top that off with a Suisse Mocha and that's the right way to start the day.
After that decadent breakfast, we decided to stroll down Laugarvegur, the main shopping street through Reykjavik. As we meandered down the streets, peeking into shops and enjoying the 45 degree morning, we happened upon the first stop on our list, the Icelandic Phallological Museum. With high hopes, we paid the 1000 kronur ($7.95) and headed into the museum. What stood before us was not what I had expected. Not in the least.
I am not really sure what I expected, as I did do a lot of research, but it was crazy. Phalluses of all shapes and sizes, some stuffed and mounted, sticking out 6-7 feet from the wall and many sitting in large glass specimen jars filled with formalin. Well, I know that's what the website said, but I guess I was not prepared for the magnitude of some of these specimens. The blue whale penis in the vessel was taller than me, and the blue whale phallus that was stuffed, mounted, and looming above us seemed at least seven feet long. There was some art and ephemera, of which I had hoped there would be more. I had had some requests for penis souvenirs, but none of them really struck my fancy, so a few keychains and postcards later, we exited the museum and began moseying back towards our hotel.
On the way back, we happened upon Skinnlist Tattoo, and the second thing on the list was about to get checked off or at least planned. The tattoo shops I had researched before we went seemed super pricey and mostly for custom work. But, Skinnlist seemed different. A young woman greeted us as we walked in, the daughter of the owner. They were extremely welcoming, and when we told them we were interested in tattoos, they told us they were booked for at least two weeks. But when we mentioned what we wanted, we were told they could squeeze us in Saturday morning, and we started designing our pieces.
Frances and I both wanted Vegvisir, an Icelandic magical guidepost symbol that means, one who carries this symbol will never be lost, even in storms or bad weather, or if the way is not known. I just wanted the symbol, and my sister wanted the written-out meaning just below the symbol. The young lady and my sister translated the words properly (in Icelandic) and chose a font. We happily left the shop with plans to return on Saturday morning.
At last, it was time to head back to the hotel, get checked in and freshened up – plenty of time to relax and even take a short nap.
I could go on and detail every part of this short trip, since it was packed with as much as we could cram into four days. So, what to tell you is the conundrum.
The Lebowski Bar was one of our go-to places to enjoy our evenings, and conveniently enough, it was around the corner from the hotel. Within ten minutes of arriving at the bar, one of the bartenders came around with sheets of paper and pens. Ooooh, A MOVIE QUIZ. I love movies. Let me just put in here that most Icelanders speak English. They begin learning it around fourth grade. They also boast one of the highest literacy rates in the world at 99 percent. All the movies were American movies and there were plenty that we knew, but some of the questions were difficult for sure. We didn't win, but as we were getting ready to leave, a trip-changing experience took place. We met a wonderful young couple from Wales. After chatting a bit, we made plans to hang out the next day.
After a relaxing day of sightseeing with our Welsh buddies and our off-road adventure to see the Northern Lights (too cloudy; so no sightings) and an amazing lobster and red potato dinner, I was ready to hit the "Karaoke Sports Bar" that I had seen the previous evening on our adventures. I was ready to hit the stage. We met up with our new friends from Wales and headed to the bars.
I keep a karaoke playlist on my iPod. I like to sing karaoke, and I don't actually get to do it as often as I used to, so I was pretty excited. What to sing, though, is always the question. I sat and sipped my Icelandic lager, Gull, and observed the crowd. I tried to gauge the mood of the room. Everyone who got on stage sang an American song, as seems to be the norm here. I decided on The Foundations's "Build Me Up Buttercup."
Little did I know, the Icelanders would go wild. By the time I got to the chorus, three guys were up on stage dancing and singing along. These folks like to party! How does one even follow that up? Well, closing down the bar with another sing-a-long anthem, Gloria Gaynor's "I Will Survive," another crowd-pleaser, and the dance floor filled up again. We headed back out into the streets which were surprisingly busy for 2 a.m.
Saturday was sure to be a stellar day too, as our tattoos were scheduled for 11 a.m. and "The Golden Circle" tour was scheduled for the afternoon, followed by another evening of checking out the Reykjavik nightlife.
Tattoo time was upon us, and I was super psyched. I went first, and Sverrir, tattoo artist extraordinaire, was done with my simple symbol in no time. My sister was up next, and hers went just as smoothly.
"The Golden Circle" tour is one that comes highly recommended by other tourists and Icelandic natives alike. This bus tour (on a wi-fi enabled tour bus) started out at Þingvellir (Thingvellir), literally "Parliament Plains" a historic site which was central to Iceland's cultural heritage and identity, used from about 930 until 1798.
Þingvellir also has geologic significance. The whole area is part of a fissure zone, and it sits on the tectonic plate boundaries of the Mid-Atlantic ridge. Massive rock formations and a spectacular view of the fractured earth astounded me. They talk a lot about trolls in Icelandic culture, and as I viewed photographs of the rocks formations after the fact, I could see why. Faces loomed out from each outcropping of rock I looked at.
Next stop on the tour was Gullfoss (Golden Falls), one of Iceland's amazing waterfalls where the Hvítá (White River) thunders down a 105-foot drop into a canyon. On a sunny day, a gorgeous rainbow is often seen, but not today. This site was on the verge of being developed for hydropower, but was reportedly saved single-handedly by Sigríður Tómasdóttir, the daughter of a nearby farmer.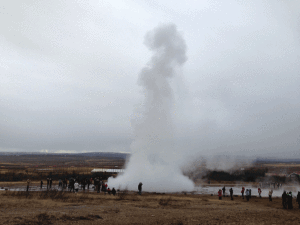 Geysir National Park was the last attraction we visited on our tour, and it was well worth the wait. And the wait for the explosive vision of water shooting up out of the earth was not long. It's hard to pick a favorite of the three, but when asked I enthusiastically said Geysir. Strokkur, the most active in the park, erupts every few minutes at a height of anywhere from 10-40 meters. We watched it erupt a few times before wandering up to get some close-ups and video (see basementmedicine.org for additional pics and video footage). Strokkur did not disappoint.
This is where I will place a shameless plug for Icelandic tourism and the glory of Icelandair. Keflavik airport, Icelandair's hub, is a mere 4.5 hour flight from Boston and an easy 2.5-4 hour trip from there to many major European cities.
To boost tourism, Icelandair provides free layovers in Reykjavik for up to seven days when flying between the U.S. and Europe. This is a great opportunity to check out Iceland, but still provides a reasonable airfare to your desired European destination. I urge people to try this next time you head to Europe, and I am already planning my next trip.