Elaine Harvey returns as NVU-Johnson's first director of student engagement and persistence
Elaine Harvey will return to NVU-Johnson on Dec. 11 to become its first director of student engagement and persistence.The first time that Harvey was at Johnson was back in December of 2012, when she took a position within the athletic department as the assistant athletic director for internal and external communications.
During her time at Johnson, she worked under current Director of Athletics Jamey Ventura on a number of initiatives related to strategic planning, student-athlete retention, annual fund level development initiatives and day-to-day operations.
In 2016, she left to become the assistant director for development and communications at Wellesley College. She also pursued her doctorate in education from Northeastern University.
On the search committee was Associate Professor and Associate Academic Dean Kathleen Brinegar. During the hiring process, she noticed a lot of intangibles that Harvey had that fit the job description.
Brinegar noted that she is a fantastic communicator with her ability to make connections with many individuals. She can generate a lot of good ideas despite the challenges that small higher education institutions face with higher costs and low enrollment. She can also look at the data and make educated decisions based upon that data, making it easy to pinpoint something as being important to look at.
"A lot of this job is thinking through strategies for improvement," she said. The only way that they are going to happen if we have someone that can convince others that they are important by listening and take a bunch of ideas into account. She has a lot of experience with strategic planning, and part of this job is to create a university-wide yearly retention plan."
The position is funded by the Title III grant that was awarded to the university in October of 2018. The $1.8 million grant focuses on intellectual and social experiences that help gage students towards graduation.
In her first year, the position will be paid in full by the grant. Over the course of the next couple of years, the university will take on more and more of the expenses to cover Harvey's position.
Brinegar said that this is a way for NVU-Johnson to ease into paying for an additional staff member after the Title III grant is over and they want to keep her position. The University can also decide to not retain the position at the end of the grant, which Harvey was made aware of before she made her decision.
Brinegar mentioned that there are two components to this position. The first is to employ data to identify needed improvements in the university's efforts to support students on their way to graduation. Second is to create high-impact and engaging experiences in and outside of the classroom so that they want to stay.
"It has allowed us to bring in an expertise to help both academic and non-academic departments across campus to think about ways to better meet our students needs and help them to graduation," she said.
Besides making strategic plans and looking at retention data, she will be connecting with current and former students so that they can work towards graduation.
"We have a really long list of students on this campus who left the institution who applied for graduation but never actually graduated, which means that they were so close, they have a small number of things that they just never finished," Brinegar said. "One of her jobs is to reach out to those individuals and see if they can facilitate a process with people on campus to actually help those students graduate."
One of Harvey's responsibilities will focus on student retention and reaching out to those who are thinking about leaving. "They need to fill out an exit notification form, and that's if they are leaving for good or if they're taking a leave of absence," she said. "Right now, students fill out those forms. Elaine is going to be reaching out to those individuals after they submit a form to get some additional information, such as finding out what happened and helping them think through if there is anything else we can do to help them stay, if that's within our control. If not, how can we help them leave with dignity, make them feel like they have a plan for what they are going to do when they leave our institution."
Once Harvey arrives on campus, she hopes to put her strengths and practices to use to keep students on a timely path towards graduation and overall success.
"One of the biggest tasks on my to-do list will be to create a comprehensive plan that faculty and staff alike feel passionate about," Harvey said. "This work will involve many campus stakeholders; I'm excited to reconnect with many colleagues and meet the new faces that have joined NVU-Johnson since I left."
About the Contributor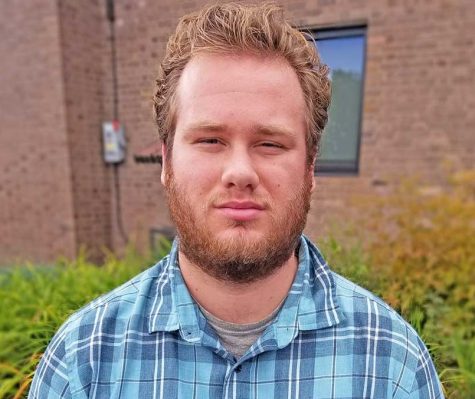 Patrick Bell, Sports Editor

Senior, Journalism
Grew up in Charlestown, RI
Fall 2017 - Present