Springsteen's newest a "Wrecking Ball" for my heart
Bruce Springsteen is one of the shining idols of my life.
I first visited Springsteen when I was 14. Springsteen's music revealed a brother I'd never imagined was out there—in songs like "Thunder Road" and my freshman year anthem, "Born to Run," I heard a person just like myself, but stronger, more willing to "take it to the end of the line." Springsteen's music signaled that I wasn't alone, and my religious romanticism wasn't bullshit, either.
He's been a father to me when I felt my own father wasn't there, and a brother when I needed one. He's always been an inspiration: I see myself in him, and I hear myself in his music. It's difficult to overstate the meaning of Bruce Springsteen to my existence.
Springsteen's one of the great rock 'n' rollers, not on the level of Chuck Berry, or even probably Bob Dylan, but his first eight albums showed an otherworldly consistent excellence, with at least three of those—"Born to Run," "Born in the U.S.A.," and the generally dismissed "Tunnel of Love"—among the great rock albums. His divorce, which followed "Tunnel of Love," shattered his spirit, and it's showed: he's released one really good album since 1987, 2005's "Devils & Dust."
His other recent albums, starting with "Human Touch" in 1992, have suffered from self-doubt, misdirection, and a step into the lyrical laxness of hero-rock—even though Springsteen has always seemed like a hero-rocker.
Then Springsteen's iconic supporting band, the E Street Band—a bunch of Regular Joes gifted with their instruments—started the Reaper March. E Street organist Danny Frederici passed on. Clarence Clemmons, the E Street saxophonist and the most popular member of the band—the image of black giant Clemmons and scrawny white Springsteen on the cover of "Born to Run" has become one of the mythic rock images—suddenly passed away last summer. A rock era came to an end: the E Street Band died with Clarence Clemmons.
This information has been necessary so that you understand the weight of this statement: Bruce Springsteen's new album, "Wrecking Ball," his first album of the post-E Street era, has made me frustrated, angry and hurt.
"Wrecking Ball" revolves around the working-class plight against the likes of Wall Street, the hot liberal topic today, for good reason, and it's gold material for Springsteen. When he said it was the angriest album he's ever made, I hoped his anger had brought out a "Born in the U.S.A."-esque approach to the topic. Anger made "Devils & Dust" his only striking album since 1987.
"Wrecking Ball" isn't his angriest album. "Wrecking Ball" is an album on which he plays angry: the heartbreak is that the Boss has discarded Bruce Springsteen the man for Bruce Springsteen the icon, the people's hero—Bruce Springsteen, the image.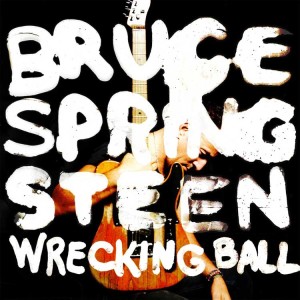 "Easy Money" is the first sign of trouble, a story about a guy who's so desperate for a job that he's finally driven to pull a gun and head into town. It could've been a doozy in the "Nebraska"/"Born in the U.S.A." days, but Springsteen's lyrics have become so much stodgier and less psychological-emotional.
"There's nothing to it mister, you won't hear a sound," Springsteen growls. "When your whole world comes tumbling down/And all them fat cats they just think it's funny/I'm going on the town now lookin' for easy money."
"Jack of All Trades" is a weepy piano number that goes on six minutes. Springsteen's hopeless voice works sometimes, but then the strings come in—he never needed those in the Eighties. "The banker man grows fatter, the working man grows thin"—these are lyrics I'd expect to hear from an old gent with a banjo outside a country store.
But there is a section where the song breaks into that sad, hopelessly hopeful waltz that the E Street Band has always done so well, and things are happy, until one remembers E Street's history, and the lyrics come back in. One genuine good spot among the words: "We'll start caring for each other like Jesus said we might."
"Rocky Ground" is the one where I flipped my lid. It's a dragging, moody, eerily religious number: "Rise up, shepherd, rise up," Springsteen calls. He seems like a preacher, like the people's pastor.
What the hell is this shit? We're going to sit around swaying and crying about what's happened while Reverend Boss tells us it's gonna be okay someday? What happened to rocking through hardship, through creating musical solutions instead of music about solutions? Springsteen's old material was so full of rocking stories that propelled me forward, spiritually, emotionally, intellectually: I learned from everything he sang, a change happened in my heart and my emotions from everything he and his band played. His music had the power of change. This false religious bullshit promises change in the future and weeps in the meantime.
He thinks this is who he is? He thinks this is who we need? We need him. We need Bruce Springsteen the Man, not a bearded folk-rockin' shepherd wavin' us on with his walking stick. And for the first time in my life, I was mad at the Boss. I wanted to smack him in the face.
There's some good on the album. "Shackled and Drawn" is mostly delightful. The music stomps, and the aging Boss's paranoid wail sounds real.
"Great morning light spits through the shade/Another day older and closer to the grave/I'm closer to the grave and come the dawn/I woke up this morning shackled and drawn," he cries.
"You've Got It" is the jewel of the album. I don't know where this song came from, but it's the best he's done since at least "Devils & Dust" in 2005. It sounds like heyday Springsteen.
"No one ever found it/Ain't no school ever taught it/No one ever made it/Ain't no one ever bought it/Baby you've got it/Baby you've got it/Come on and give it to me."
The title track, which Springsteen wrote when they tore down Giants Stadium in 2010, is pretty darn good too. He didn't take the material overly seriously, which brought out a strong, loose hometown anthem. It's especially powerful, because with "Land of Hope and Dreams," it contains Clarence Clemmons's final recordings with the E Street Band.
"Wrecking Ball" has received mixed reviews, but they're swinging toward positive. Rolling Stone, which awards Springsteen five stars every time he puts out an album, gave it five stars, with David Fricke calling it "the most despairing, confrontational and musically turbulent album Bruce Springsteen has ever made."
David Fricke is a fricking idiot. "Wrecking Ball" is a mess, a falling, a failure. There are a few gems among the rubble, but there's no indication the Boss will ever wake up and realize it was his humanity that made us love him, not his godliness. And all I can think every time I hear it is that I want my Bruce Springsteen back.
About the Writer
Tom Benton, Editor-in-Chief
Tom Benton joined the Basement Medicine staff in spring 2011, assuming the position of editor-in-chief in spring 2012.  He continues in that capacity...