New undergraduate faculty
NVU-Johnson welcomed two new full-time faculty members to its ranks this semester.
Both professors, Dr. Nora Beltz and Dr. Matt Rushford, are both terminal-degreed professionals with years of experience and will be teaching undergraduates.
"Both have years and years of experience in their respective disciplines," said NVU Provost Nolan Atkins. "They bring a lot of knowledge in their fields to these positions."
Also hired was graduate professor Dr. Maureen Stewart.
Dr. Eleanor Beltz
Eleanor "Nora" Beltz, has a Ph.D. in Kinesiology and Exercise Science from University of Connecticut. She joins the Environmental and Health Sciences department as an assistant professor.
"I grew up outside of Boston," said Dr. Beltz, "but I really am someone who loves a little bit of a slower pace and the outdoors. I went to college in Maine at Colby College, and got my graduate degree in New Hampshire at Plymouth state and I stayed in New Hampshire for a few years before going back to grad school. I'm a little bit of a more of a northern New England type of person."
Beltz was working as an athletic trainer before she came to Johnson and is bringing that experience with her. "Our program is heavily rooted in [the belief] that nutrition and physical activity are the foundations of health. We branch out from there. My colleague Dr. Emily Tarleton is a registered dietitian, and I'm an athletic trainer, so she's doing the nutrition aspects, and I'm doing more of the physical activity aspects. I am teaching physiology of exercise and strength and conditioning this semester. I'm also teaching one of our introductory courses for health science majors, which will be expanded out to all department majors."
Beltz specializes in injury prevention within the broad scope of athletic training. In college, Beltz was a biology major and three-sport athlete, but was unsure of what she wanted to pursue after college. "I was debating going either to medical school or becoming some sort of a healthcare professional," she said, "but ended up working as a ski instructor after college. I ended up having a season-ending injury where I had to go to physical therapy for about four months and I had a great physical therapist who kind of counseled me and pointed me in the direction of athletic training."
Despite the hardship of recovering from a serious injury, Beltz is grateful for the redirection.
"It was kind of a happy accident. Probably one of the hardest times in my life that turned into a life changing moment," she said.
Dr. Matthew Rushford
The other professor hired this summer is Dr. Matthew Rushford, who has spent 25 years working as a family chiropractor. Rushford was brought in to update and modernize the Wellness and Alternative Medicine major program at Johnson after Dr. Susan Green passed away in April.
Even before he started, Rushford recommended that the WAM program's name be changed to Holistic Health. "Medicine is a really narrow specialty field of treating illnesses and diseases," he said. "Health and wellness are much broader initiatives. I wanted to put the concept of the study of the multifaceted dimensions of health and wellness at the core of the program. Things like medicine can orbit around that, but for medicine to be at the center, I felt like it created a lack of balance."
Rushford added that the term "holistic health" decentralizes "medicine" and refocuses on "health," which allows for a broader spectrum of study, including "yoga, childbirth, chiropractic, mind-body skills and wellness."
Rushford emphasized that health or wellness and medicine are not synonimous. "One thing we do in my Wellness and Alternative Medicine class, pretty much day one, we create a distinction between wellness and medicine," he said. "Those two things are different. Medicine has almost nothing to do with health or wellness. Medicine as a pursuit, as a field or practice is there to intervene in those rare moments when we're in crisis, when we have disease or trauma. Those are really rare moments in a person's life.
Rushford compared health versus medicine to something like an intervention from a tow truck. "If your job is to travel around the world in your caravan of awesomeness, medicine is like Triple A. Every once in a while, that card in your pocket… they are really handy to get you back on the road. Once you're on the road, you don't want to see that Triple A guy driving next to you."
Rushford is teaching several classes this semester including the Wellness and Alternative Major class, and he's looking forward to some exciting classes in the spring. "I'll be teaching the chiropractic course," he said. "It's a pretty wild and crazy ride." He will also be integrating a natural childbirth course, which incorporates study of indigenous cultures and their birthing methods all the way to present time. "That's really going to be a fun class," he said. "That's my specialty. It's what I've been doing since 1991."
Rushford's chiropractic specialty is in Network Spine Analysis, which is a spinal readjustment similar to traditional chiropractic. "In regular chiropractic," said Rushford, "the chiropractor comes in and adjusts your spine, like physically moves it back into place, and to help everything be more aligned, balanced and flexible and for the nerves to flow so your brain talks to your body. In Network, we're trying to accomplish that same thing, but our job is to help your body get better at adjusting itself, so we use really light touches."
New faces after upheaval
Drs Beltz's and Rushford's arrivals comes on the heels of a relatively short period of upheaval for the Environmental and Health Sciences department, which saw nearly 80% full-timer turnover in less than four years. After the retirements or resignations of Bob Genter, Karen Uhlendorf, Amy Welch, Liz Dolci, Leslie Kanat, Tania Bacchus and Hans Haverkamp, the department was left in the hands of Dr. Emily Tarleton and Brad Moskowitz, the new co-chairs of EHS. Along with Beltz, Rushford, Tarleton and Moskowitz, the EHS department also includes two other full-time faculty: Visiting professors Lisa Zinn and Clemencia Caporale.
"That area's undergoing a lot of change and transformation," said Atkins, "which I think is all very positive."
About the Writer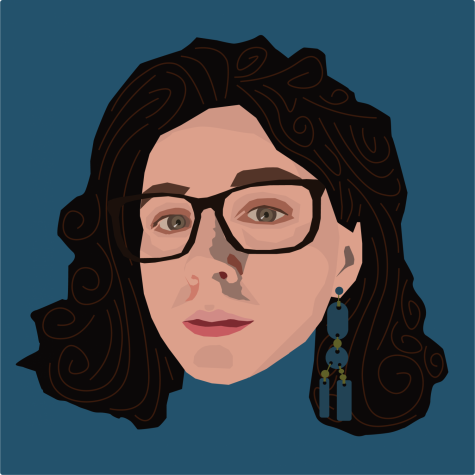 Rebecca Flieder, Editor-in-Chief
Senior, Journalism & Creative Writing
Grew up in Atkinson, NH
Fall 2018 - Present
Along with traditional journalism, I enjoy writing satire and...