Eckman appointed interim director of athletics
COVID-19 and the ever-changing merger situation have caused shifts and changes within the NVU community, and the athletic department has been no exception. The Lyndon/Johnson merger has already made its mark on the department and the imminent merger with Castleton and Vermont Tech certainly spells further change.
This summer's departure of Associate Dean of Athletics Jamey Ventura has left some questions about what new form the athletic department will take.
After Ventura's departure, Greg Eckman took over as the interim director of athletics for the Johnson campus of NVU. Eckman will remain in that role for the new school year, and Chris Gilmore will act as his counterpart on the Lyndon campus.
Eckman will also oversee marketing for both athletics departments while handling the day-to-day operations of the Johnson athletic department in his role as director.
Along with the interim director role, there are numerous other coaching changes taking place this year. Alfred Johnson will be taking over for Miles Smith as the head coach of the men's basketball team.
A Johnson State College alum, Smith returned to campus in 2015 to accept the head coaching position for the men's basketball team where he has been up until the end of the spring 2021 semester.
Smith will be going to the College of New Jersey, where he will work in their athletics department as the assistant athletics director for student development and compliance.
Johnson is coming to NVU-J from Elizabeth City State University in North Carolina, where he was the assistant men's basketball coach.
"(Johnson) has a passion for the student athletic experience and comes with 20 plus years of college basketball experience," said Eckman, "He has a passion and knowledge for the game, and he wants to get better every day."
The Badgers also have a new coach for the men's and women's volleyball team in Dongping Fang. "[Fang] has an excitement for volleyball," noted Eckman. Like Johnson, Fang brings over 20 years of coaching experience with him.
"Being originally from China, [Fang] brings a different experience to the NVU community," added Eckman. Along with his coaching responsibilities, Fang will be serving as athletics administrator and will also be involved in the intramural sports scene.
Former Badger's women's soccer coach and part-time instructor in the business department, Andrew Lafrenz, is moving over and taking the coaching job for the men's team this year.
Newcomer John Peterson will be assuming the coaching duties for the women's side. This is Peterson's first collegiate coaching position, but he has 10 years of experience within the Vermont soccer club community.
"He has very good organizational skills," Eckman said of Peterson. "His experience and interpersonal skills will bring a level of professionalism to the department that we feel will make him a great addition to the program."
Both teams' schedules can be found at nvubadgers.com.
The soccer season's start date of Sept. 2 was pushed back due to COVID-19 but resumed on Sept. 7 when the women's team won 2-1 at Vermont Tech.
The men's team followed up on Sept. 8 with a 3-0 win at the same venue.
The Badgers are also welcoming new assistant athletic trainer/strength and conditioning coach Noah Rouleau to campus.
Johnson is still seeking a new assistant athletic director of communications to replace Chad Copeland, who resigned last spring.
Another position that has yet to be filled is that of advisor to the Coalition of Minority Student Athletes (COMSA). Eckman hopes to have that role filled soon.
"There won't be any gaps in services available to our student athletes," Eckman said. "This athletic department will continue to support our student athletes in the way that they have come to expect."
Eckman said that both Ventura and Smith were active in the Diversity, Equity and Inclusion program on campus, and though their presence will surely be missed, Eckman stresses that "we're all welcome," and that diversity and inclusion will continue to be practiced and celebrated amongst the Badger athletic department.
Additional information including news and sports schedules can be found at nvubadgers.com.
About the Writer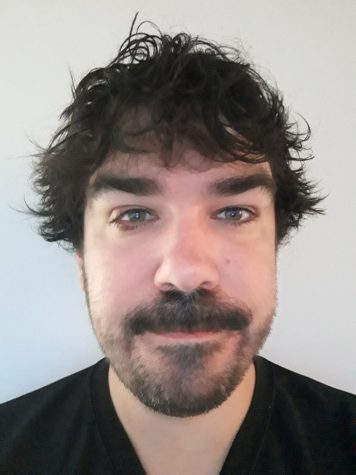 Kyle Gagnon
Kyle Gagnon is a former editor of Basement Medicine. He haunts us still.