A Cuban journey of discovery
I spent the best week of my life in Cuba.
Professors Tyrone Shaw and Ken Leslie bring a group of students every few years. Due to the merger, they were able to bring students from the Johnson and Lyndon campuses. This class, INT-3035, is known as Art and Culture of Cuba.
I didn't think it was going to be as incredible; I was anxious to travel so far outside of the country without the safety net of my parents.
I studied and did the required reading, so I had background and context for the history of Cuba when we got there. But what I didn't realize was that no matter how much I read, I could not imagine what it would really be like.
We left the Johnson campus in vans and headed to Montreal to take our flight to Cuba. While there are flights out of the United States, these tend to be far more expensive and much less frequent. After what seemed like a pretty seamless experience in security and border control, we boarded our four-hour flight to Jose Marti airport in Havana.
Before the trip, the leaders had explained the whole trip to us through the itinerary, as well as other information we'd need to know. Bring your own toilet paper, they'd said. They don't have much of it and you'll need it for public restrooms. Also, Cuba doesn't have access to the World Bank, so you can't use credit cards or debit. A third, most important tip: try not to drink the water, and bring Imodium.
I have a rather bad habit of getting sick while I'm on vacation. I always happen to end up with a cold, food poisoning or something else that probably could have been avoided.
I was also anxious to go to Cuba simply because I have esoteric food allergies: both banana and tomato make me violently ill. Once I'm done throwing up, I'm fine, but Cuba uses both in many recipes. In fact, Cuba's signature dish known as Ropa Vieja is made with tomato, so I couldn't try it.
The reason we could go to Cuba is because it was basically a field trip; while the trade embargo still exists, American students and teachers can take educational time there.
We landed in Havana at 8:00 p.m. Luckily for us, Havana and Vermont are both on Eastern Standard Time. We were greeted by our hosts, then brought to our "casas particulares," the homes we would be staying in for the week.
Every day brought something new that challenged my idea of the world. Cubans struggle immensely with scarcity, and while everyone has a ration card for basic food items, things that Americans take for granted are impossible to find.
Toilet paper is a huge one. Often, you have to pay to use a restroom in a public place. There is (usually) an old lady sitting outside with a basket and a roll of paper. When you hand her a coin or two, she hands you a square of TP. That's about it. If you need more, too bad.
Luckily, I packed a roll, and I used it. You don't flush it, though. There's always a basket next to the toilet, because the hydraulics in Cuba are old and can't withstand the paper.
Another thing: nobody there speaks English. I had started learning Spanish in October, but I was still too green to make conversation with anyone. Sentences like "Donde esta el bano" and "Una boteilla de agua, por favor" were about all I could say.
Artists are also bound by scarcity. You can see it in artworks and the way that art is displayed. We went to Fusterland, an attraction in the Jaimanitas neighborhood, where a man named Jose Fuster tiled his house and his neighbors' with ceramic mosaics in order to keep them structurally sound. Now, his whole stretch of neighborhood is tiled, along with a three-story playground to walk around in and take pictures.
Because there isn't an open market in Cuba, Fuster often goes to places like Brazil or Venezuela to buy tiles, then carry them in excess luggage back to Cuba. He can't ship anything to Cuba because of the embargo. Any cargo ship that goes to Cuba has to wait six months before it can dock in any American port, so cargo companies refuse to ship to Cuba due to cost concerns.
We got to meet the artist himself, and, while speaking very fondly of his art, also criticized the American government for the lasting effects of the embargo. He worried that if Cuba were bombed by the Americans, Fusterland might be hit. "When the bombs drop on Cuba," Fuster said through a translator, "please remember us here."
There were tales of brilliance in overcoming adversity in the face of scarcity. A book bindery called Ediciones Vigia in Matanzas makes handmade books using found objects. These contain poetry, fiction, translations, and other fascinating works of art. But the books themselves are also art, made of paper, cardboard and sometimes buttons and beads. Ediciones Vigia makes 200 copies of every book, never to be made again. Once all the copies sell, that's the end of that book.
Along with the touristy places we went like the Museum of Fine Arts, we also saw and participated in some really special small events. One afternoon, I was one of a small group to gather in a house with some high school students from San Alejandro Academy in Havana. The Cuban government has banned Americans from entering their schools due to our current leadership, so the students and their teacher came to us. Leslie taught a bookmaking workshop, where we sewed paper pamphlets together with a cover of fancy paper from Thailand. We had also brought them some maple candy from Vermont, and most of them enjoyed it greatly.
I started talking to a girl named Sofia who was sitting next to me during the workshop. Her English was excellent; she had been teaching herself through reading American YA novels and watching "Friends."
While I couldn't connect to the wifi, Sofia could, and she friended me on Facebook. When I made it back to the United States, I messaged her to let her know. Now, I send her PDFs of American novels if I can find them online in Spanish, and we message a few times a week about life as young adults.
Another cool experience that we got to have was the referendum. On Feb. 24, Cubans were going to vote to ratify a new constitution. This was the first time in many years that Cubans were going to be able to participate in a truly democratic process. I was excited, to say the least. As we walked around town that day, we saw schools and co-ops open with big lists of people being checked off.
This wasn't just some minor thing, either. One of the many new amendments to the constitution was the change to the definition of marriage from between a man and a woman to between two people. For a culture that struggles quite a lot with toxic masculinity and the 'macho' culture, this would be a big deal.
At the end of the day, nobody could tell me if it had been ratified. It took untl late the next day when I asked around again for someone to tell me that, yes, Cubans had legalized gay marriage!
My roommate for the trip, Phoebe, had wondered if there might be a pride parade in celebration. When there wasn't one, we thought that maybe Cubans had just never seen a pride parade and wouldn't know to have one. Kind of a bummer, I think.
I had brought (what I thought) was enough of everything for me to be set in Cuba, but what I should have been thinking about was my penchant for sickness on vacation. This trp was educational, but still fun, so you probably know where this is heading.
I brought Imodium, but took it too late for it to work for the first eight hours of my illness. Based on the things that I ate, I can say with some certainty that the reason for it was the water; I have a sensitive stomach that is, well, easily offended, and I had had some drinks with quite a bit of ice in them. It doesn't take a lot, apparently.
This meant I had what amounted to kind of a traumatic experience in the forest on the side of a highway during lunchtime. The eating part of the trip was amazing. Pork, beans, and flan for dessert.
When I felt my stomach rumble for the first time, I asked naively, "Donde esta el bano?"
There isn't one, the lady told me, and pointed to the literal wilderness on the other side of the road.
I hadn't quite perfected my lean squat yet, but I couldn't wait. I won't elaborate more other than to say I wish to never have that experience again.
Then I took Imodium, which put a stop to that bowel-tantrum nonsense but made me ill the other way. Turns out there are few people who react this way to Imodium, and I am one of those lucky few.
I spent a full day in bed, reading and sleeping. After my body finally figured itself out, I enjoyed the rest of the trip as if I hadn't been ill.
After all was said and done, we had eight jam-packed days full of experiences I will never forget. The museums, the art galleries, the streets and cars are all so unique. Cuba is relatively untouched from the outside world, and it shows.
To be utterly cliche about it, this is the adventure of a lifetime. You will find yourself in places you never expected and making friends with people you never knew you'd meet. Cuba is unlike any other place in the world, and it's beyond worth the visit. I'd do it all over the same way, even the sickness, because the conversations and experiences that I had have made me a more rounded person.
The trip runs about every two years. Along with the money that I spent in and around Havana, the trip ended up costing me $2200. I brought $300, but only spent $100 of it. All the rest of the art and books and stuff I bought was with disbursements from the trip leaders which came directly from the $2100 paid for the course fee.
Affordable and incredible. If you can get there, you should go. Just practice your Spanish first.
About the Contributor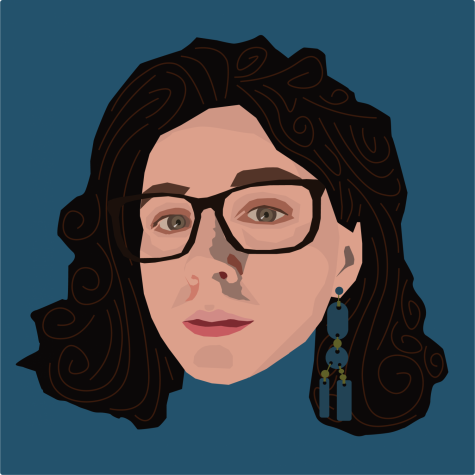 Rebecca Flieder, Editor-in-Chief
Senior, Journalism & Creative Writing
Grew up in Atkinson, NH
Fall 2018 - Present
Along with traditional journalism, I enjoy writing satire and...