Men's soccer aims for success
The men's soccer team season is underway, and is looking to be the best under second year head coach Shane Bufano.
In his first year, Bufano had to bring in close to 20 players to add to the five returners, as part of the rebuilding process. Some, he says, weren't ready to play Division III soccer last year, and so only 14 guys played last year, keeping them short at depth.
This year, however, Bufano believes that their depth will be better than it was last year.
"We have a 30-man roster and I expect 26 or 27 of them to get significant playing time," he said. "The depth of our team has a lot of talent, and it's some of these guys getting pushed a little bit to try and keep up to the level that we want."
So far this season, the men's team really has shone, beating quality teams. One of their star players, Joseph Holloway, has earned North Atlantic Conference (NAC) Player of the Week honors with three goals and one assist in two games played.
Scoring a lot of goals has become the norm for this team. Last year, they set a NVU-J soccer program record with 43 goals, 13 more than the previous record holder. Their key this year, said Bufano, is to keep scoring goals, but also do a good job keeping goals out of their net as well.
Bufano has seen a lot of improvement shown from the previous season, but Bufano still thinks they've got a ways to go. "I've definitely seen a skill improvement. We are able to do more complicated and higher level of game tactics with this group, but we are still not there yet with the discipline," said Buffano. "It is something that we are definitely working on. Last year, we were coming off of the previous year being a 2-13 team, but every team that we played wrote us off. This year, we are little bit more hunted and people might actually scout against us because we had a 7-11 year. The mental edge [is there] against teams that we know that we can beat, but how do you walk into a game with being the favorite and keep that mental edge? It's yet to be seen until we step out and play a [tough opponent]."
Bufano knows that he needs to rely on the veteran leadership that he has to lead the young players and the future of this program.
"There are a lot of new guys that are trying to find their way," he said. "Being an 18-year-old kid, not having mom and dad around, not having to be told what to do all the time, and having a bit more freedom. Veteran leadership is huge to keep some of these guys on the right path, making good decisions off the field, building the culture of winning, and teaching these guys what it takes to win. When you have a predominately young team like we do and like we did last year, it's setting you up for the next two to three years, and if they learn bad habits from a previous culture, it just doesn't help us get better. Our older guys being disciplined and teaching them the right way is extremely important."
One of those veteran leaders is Kyle Verchereau. In his third year with the team, he has grown to understand winning and feels the team could have a really bright year.
"I think it looks really good," he said. "We definitely have some good players and good potential this year. The change in the conference is really going to help us a lot. They have dropped down three of the teams that were real contributors to the NAC. I think in general, we will have a really good season. The first week here, we had everyone get together on and off the field, and I feel like we brought them in to the culture that we had created last year and they have adapted well to our team. We don't have the split that we have had in the past, feels like one team this year and that is nice."
Bufano would like to see more fan support from the community.
"I would love to see more fan support to give these guys a sense of pride," he said. "One of the things that we are trying to do as a program is set up our social media content, to build a bit of excitement, and get Johnson on the map. We want to be in the conversation with recruiting as well. Being thought in the same light as a Castleton or a Norwich in the state is a big deal to us, so we would love to see more fan support."
About the Contributor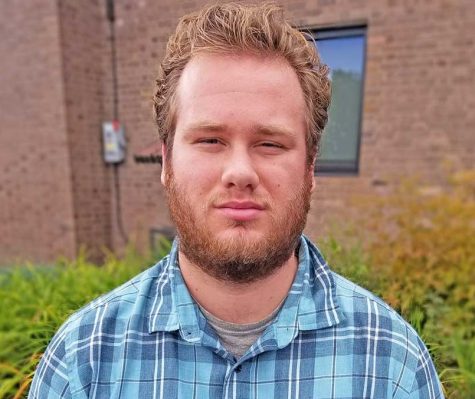 Patrick Bell, Sports Editor

Senior, Journalism
Grew up in Charlestown, RI
Fall 2017 - Present