A sports media internship
Last spring, I was on the hunt for a local and sports-related internship. I didn't have a clue on where to look for internships, let alone a sports-based internship near Johnson. My adviser asked if I wanted to speak to someone in athletics.
That question led me to contact Chad Copeland, one of the assistant athletic directors. I had only met him a few times at my home soccer matches, and I did not know if he was going to say yes.
Within the next hour, Chad had sent me a reply saying he would love for me to work with him this fall. I was ecstatic that I had received the internship I wanted. I didn't know what to expect before starting my internship over the summer. I was constantly thinking about what I would be working on since our fall sports season was canceled due to COVID-19.
Since beginning my internship this semester, I have done a lot.
I began by sorting hundreds of images of pictures from all of last year's seasons. I spent at least nine hours filing sports pictures onto an SD card from Chad's laptop and uploading them to the athletics files on his desktop. I would then sort each team's pictures into their own file folder and rename each image with the athlete's name.
I am not a stranger to picture sorting and labeling. I was the picture editor for my yearbook team in high school for four years, and I was one of the athletic photographers at Green Mountain College. Hundreds of pictures later, I now know every athlete's name and face.
What could be more fun than labeling hundreds of sports pictures? The answer is this; I spent the next few work days sorting through thousands of archive pictures dating back as far as the 1950s. I actually had a lot of fun completing this task.
Chad and I were compiling these pictures to be used in graphics for the new Wellness Suite in SHAPE. This is a project that Chad wanted my help with, and I felt honored to help him.
I got to experience what sports looked like at Johnson through pictures of teams we used to have. If I had never gotten this internship, I may not have known that Johnson used to have a gymnastics, a cheerleading and even a ski team.
A few weeks ago, I began to write and compile interview questions for Chad to use during his podcast, "Behind the Badgers." During each respective season, he is going to be sitting down with each coach to talk about their coaching career thus far, alumni success and memorable moments.
Once each coach is interviewed, Chad will then interview student athletes. I have helped with the most recent podcast with Michele Whitmore. This week, I'm working on interview questions for Coach Andrew Lafrenz and Coach Kim Loeffler.
The importance and purpose of the podcast is to give an outside campus audience a look into our university's athletic programs. The podcasts give information about what each program is like, who the coaches are, what experience student athletes have had, and what our campus community is like. There are currently five episodes on the athletics website, and new episodes will air bi-weekly.
So far, I have learned a lot about what it takes to be a sports information director, but I still have a hell of a lot to learn before this semester is over. Chad's job as one of the assistant athletic directors is not easy.
He does a ton of work right now, even without fall sports taking place. If my internship happened during a normal semester with sports, I would be completing a large number of other tasks to help Chad with the work he usually does.
This internship has really helped me think about my future and what I want to do after I graduate. I'm hoping to find a job working with a minor league baseball team and pursue a master's degree in News Media Journalism or Athletic Leadership.
I cannot wait to find out what I will be working on next. I know that I will take away a great deal of knowledge from this internship. Thank you, Chad, for this opportunity.
About the Writer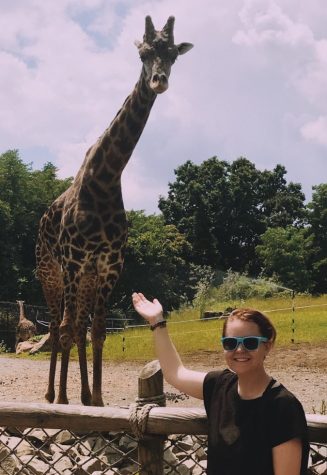 Allison Irons, Sports Editor
Senior, Pre-Law & Journalism
Grew up in Middle Town, NY
Fall 2019 - Present

My spirit animal is a Narwhal because they are the aquatic unicorns!