The Pat-Down
Recently, I've been heavily invested in the ESPN+ production "Peyton's Places," which stars future hall of fame quarterback Peyton Manning.
This year is the NFL's 100th year of existence as an American football league. There has been a lot of important moments in its history, such as 49ers tight end Dwight Clark's catch in the NFC Championship, to Patriots cornerback Malcom Butler making the game-saving interception in Super Bowl XLIX. With this show, Manning goes into the big and small details of the NFL's history.
Originally, I wasn't on board with this show and was hesitant to watch it. Being a Patriots fan, I had a strong hatred for Manning, as he and quarterback Tom Brady had one of the best rivalries in sports. But I got to admit, I was hooked with this show as Manning's personality and passion for football made an instant connection to me.
One of the first episodes was where he and hall of famer Vikings wide receiver Chris Carter tried to complete a pass from the top of a building to a park next door in New York City. This was a replication of a stunt that the New York Giants pulled off in the 1920's to draw a higher attendance to their games.
As you could imagine, it was a rather tough stunt. In the back of my mind, I kept thinking that they wouldn't be able to pull it off as the logistics were tough and Manning had a noodle of an arm in his final year of his career. But they were able to do the improbable and complete the pass several times.
What was funny about the episode was that Carter was wearing a present-day Vikings helmet but realized it affected his vision with the facemask. Luckily, someone had a helmet from the 1920s lying around and was able to put it on to help his vision and keep his head safe.
Another episode that I liked was the one that talked about the different kinds of footballs that have been used in the history of the NFL. At one point, Manning and retired wide receiver Brandon Stokely tested out the balls, which included the original football that was nearly impossible to throw, a ball that was silver to help with visibility in the black and white T.V. days, and "The Duke," which was a bit smaller and more like the present-day football so that it could be thrown better with a tighter spiral.
The episode ended with Manning working in a Wilson factory trying his best to make footballs. It was funny as he tried his best but ended up jokingly getting fired due to poor performance.
The most recent episode was about the death of the fullback position. It had a lot of humor in it, as Manning did a spoof of a detective show where he interrogated hall of famer Jerome Bettis as to why he was the reason for the death of the fullback position, only to have the tables turned on Manning, as he had played the part in it as well.
It also had a lot of interesting facts to it, as it dove into the history of the position and talked to some of the greatest fullbacks in the history of the NFL. I had no idea Cleveland Brown great Jim Brown was a fullback during his playing days, as I imagined he played running back.
One thing that I have an issue with is Manning's tendency to gloat over moments from his career in every episode, even if he has nothing to do with what the episode is about. He also has an uncanny ability to throw shade at the Patriots in almost every episode. I put up with it, but he better watch it from here going forward.
If you have an ESPN+ account and are a fan of the NFL, I strongly suggest that you look at this show. I learn something new every time I watch, and it is entertaining as hell.
About the Writer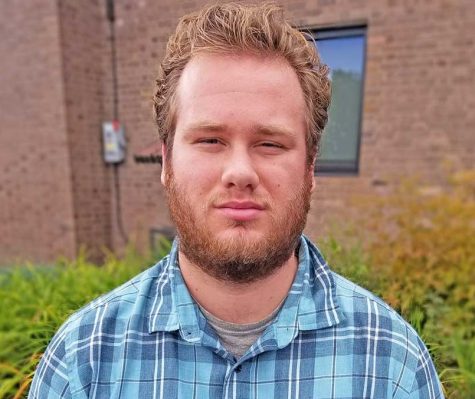 Patrick Bell, Sports Editor

Senior, Journalism
Grew up in Charlestown, RI
Fall 2017 - Present